2020 AIR Forum Call for Proposals:
September 18 – October 16, 2019
Thank you for your interest in submitting a presentation proposal for the 2020 AIR Forum. Proposals will be accepted for speaker sessions, panels, discussion groups, posters, and pre-/post-conference sessions to be presented throughout the Forum, May 25-29. Please see the resources to the right for information about the proposal process, attendee demographics, the ratings rubric, review process, and more.
After clicking "Begin Submission," you will first need to create a NEW Hubb.me account. (Not associated with previous accounts or your AIR account).
---
Forum Concurrent Sessions
Concurrent Session Topics
Concurrent Session Formats
Pre-/Post-Conference Sessions
To meet the needs of different audiences, some pre-/post-conference sessions will be tool-based, and others will be primarily value-based or theory-based. Also, in order to provide a wide array of content and training, AIR has specific interest in exploration of the topics outlined below.
Pre-/Post-Conference Session Topics
Important Dates
SEPT 18,
2019
Call for proposals open
OCT 16,
2019
Proposal submission deadline
OCT – JAN
2020
Proposal reviews
JAN
2020
Final decision notifications sent
MAR 20,
2020

Presenter registration deadline to be included in session listing


APRIL 24,
2020
Scholarly paper upload deadline to be included in session listing
MAY 25-29,
2020
AIR Forum
---
Call for Proposals FAQ
Q: Who can submit a proposal?

A: All professionals in IR, effectiveness, assessment, planning, and related postsecondary education fields may submit proposals. You do not have to be a current AIR member to submit a proposal. However, all Forum presenters must register for the Forum to attend.

A lead presenter submits the proposal and lists co-presenters and their contact information. All co-presenters must be registered by Friday, March 20, 2020 to appear in the session listing.

Note: Pre-/post-conference workshop presenters do not need to register for the Forum.

Q: Who attends the AIR Forum?

A: Over 2,000 professionals in institutional research, effectiveness, assessment, planning, and related fields attend. Each year, about 1/3 of Forum attendees are attending for the first time.

Q: How do I submit a proposal?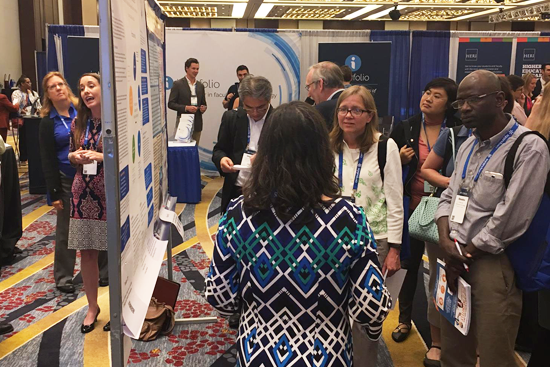 Visit the
FAQ
page for more answers to your Forum related questions.
---
eAIR asked Iryna Johnson, Associate Director for Analytics at Auburn University and Forum presenter since 2005: How would you encourage higher education professionals to submit a proposal for possible presentation at the Forum, and why? Read the full article for Iryna's answer and proposal tips.