Become a Sponsor
This is an important moment for higher education. It is adapting to our changing world while influencing the world to change. Be part of this moment. Join us as a sponsor for the 2021 AIR Forum Virtual!
This engaging, comprehensive virtual event delivers the knowledge-rich conference experience that has supported higher education data professionals for over 60 years.
Our sponsors and exhibitors help provide participants with a conference that continues to lift the bar, while sponsors gain brand exposure and build relationships within the higher education sector.
AIR Forum Virtual is the place to be May 25–28, 2021, and we hope you'll join us!
Contact
Join Us
To become a sponsor, fill out the appropriate registration form and terms and conditions form located within the expandable sponsorship level list below. Email Emily White at meetingplanner@airweb.org if you have any questions or need help choosing a sponsorship level—we are here to support you.
Gain Brand Exposure
AIR Forum attendees are highly engaged higher education professionals who support data-informed decision making in higher education. If you are looking to gain brand exposure and build relationships within this sector—and especially with decision influencers, the 2021 AIR Forum Virtual is your exclusive chance to connect and be a part of the world's largest gathering of professionals in these fields.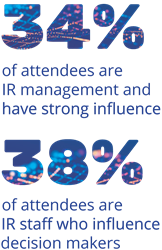 Attendees by Type of Organization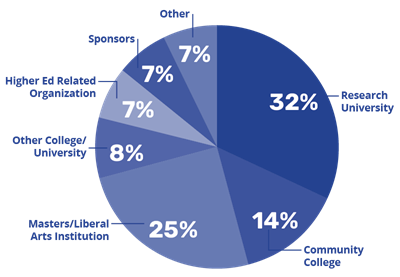 Attendees by IR Role