Become a Sponsor
2022 AIR Forum sponsor sales have closed. If you have any questions, please email Emily White at ewhite@airweb.org.
As the largest gathering of higher education professionals working in institutional research, effectiveness, assessment, planning, and related postsecondary education fields, AIR Forum is the community's premier event. 

Our sponsors and exhibitors help provide participants with a conference that continues to lift the bar, while sponsors gain brand exposure and build relationships within the higher education sector.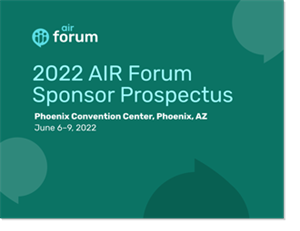 Gain Brand Exposure
AIR Forum attendees are highly engaged higher education professionals who support data-informed decision making. If you are looking to gain brand exposure and build relationships within this sector—and especially with decision influencers—the 2022 AIR Forum is your exclusive chance to connect and be a part of the world's largest gathering of professionals in these fields. 
Attendees by Type of Organization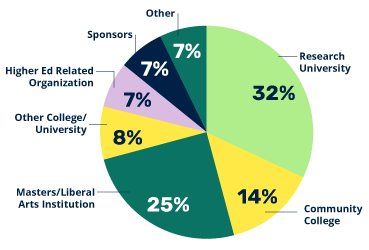 Attendees by IR Role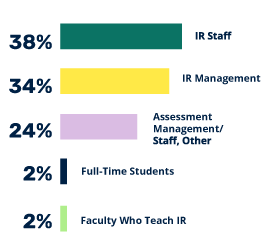 Long Description
Image 1: Attendees and the Exhibit Hall
34% of AIR Forum attendees are IR (institutional research) management and have strong influence; 93% of AIR Forum attendees visit the Exhibit Hall; 62% of AIR Forum attendees speak directly with sponsors in the Exhibit Hall; 84% of AIR Forum attendees spend at least one hour in the Exhibit Hall.
Image 2: Conference attendees by type of organization
32% Research University; 25% Masters/Liberal Arts Institution; 14% Community College; 8% Other College/University; 7% Higher Ed Related Organization; 7% Sponsors; 7% Other.
Image 3: Conference attendees by IR role
38% IR Staff; 34% IR Management; 24% Assessment Management/Staff, Other; 2% Full-Time Students; 2% Faculty Who Teach IR.