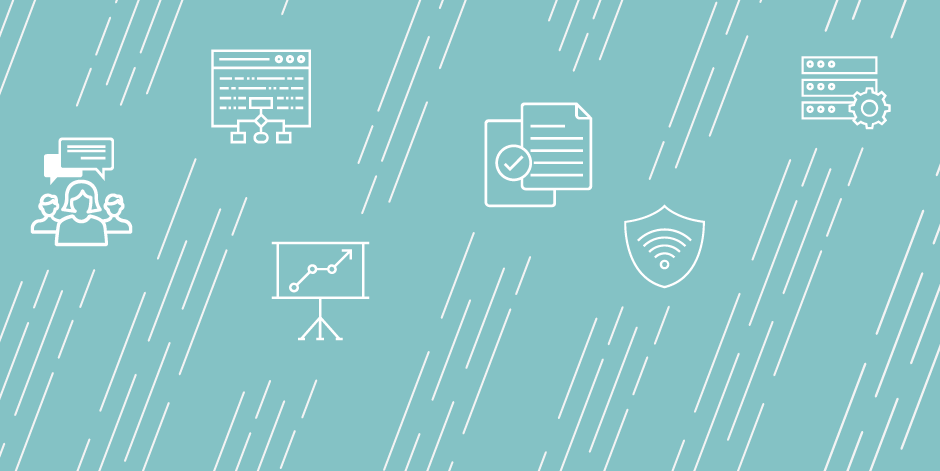 Job Duties
Data management: Query, validate, manipulate, and analyze data from enterprise systems and warehouse environments using tools such as SQL, SAS, R, Python, and/or SPSS.
Course evaluation and survey management: Serve as the primary administrator of the course evaluation and survey systems. Coordinate the administration of course evaluations as well as surveys of students, faculty and staff using software such as Qualtrics. Analyze and report survey findings.
Faculty activities database management: Serve as the primary administrator of the faculty activities database. Coordinate faculty and department use of the system including interface modification, report development and modification, and data quality.
Internal reporting: Collaborate with stakeholders to develop meaningful research questions. Design and produce appropriate statistical analyses with actionable recommendations within assigned deadlines.

Communication: Clearly communicate findings to non-technical audiences orally, in written form, and graphically as appropriate using tools such as Excel, PowerPoint, Word, Tableau, and/or Power BI.

Data literacy: Ensure stakeholders understand and appropriately use data products produced by the office by providing appropriate training and documentation.

Innovation: Proactively identify innovative analyses, methodologies, and technologies to assist the office and the university in achieving their missions and to improve student success.

Perform other duties and responsibilities as required, assigned, or requested.
Job Qualifications
Required Knowledge and Skills:

Bachelor's degree in Business, Statistics, Mathematics, Computer Science, or Social or Behavioral Science. Two years of employment in a professional setting or equivalent.

General computer programming experience and skills. 

Experience with MS Office applications (MS Access, MS Excel), relevant database (e.g., Oracle, MS Access) and quantitative analytic software (e.g., SAS, SPSS). 

Demonstrated strong customer service skills. 

Excellent oral and written communication skills. 

Demonstrated strong attention to detail involving data, database, and documentation.

Preferred Knowledge and Skills:

Master's degree in Business, Statistics, Mathematics, Computer Science, or Social or Behavioral Science with 2 years of employment in a professional setting, higher education setting, or equivalent. 

Advanced experience with large, complex relational databases and in querying enterprise data systems (e.g., PeopleSoft) and warehouse environments. 

Advanced knowledge of survey best practices, research design, and statistical analysis. 

Demonstrated ability to quickly master new technology. 

Advanced proficiency with Microsoft Office applications and at least one statistical software application such as SAS, SPSS, R, STATA, or Python. 

Strengths in problem solving, critical thinking, and data/statistical analyses. 

Experience in the development of effective data visualizations using tools such as Tableau or PowerBI. 

Demonstrated effectiveness in communicating findings orally, graphically, and in written form to a variety of audiences. 

Ability to manage and prioritize many assignments/projects simultaneously. 

Enjoyment and comfort at working collaboratively in a deadline oriented setting.
Institution Description
Marquette University is a Catholic, Jesuit university located near the heart of downtown Milwaukee, Wis., that offers a comprehensive range of majors in 11 nationally and internationally recognized colleges and schools. Marquette enrolls more than 8,500 undergraduate and 3,300 graduate and professional students. The university's excellent reputation draws students from nearly every state and more than 80 countries. 

Marquette's focus on the four core university values of excellence, faith, leadership and service challenges students to integrate knowledge, faith and real-life choices in ways that will shape their lives.
Faith and spirituality affect the way teaching, learning, research and living take place on campus. Students, faculty and staff of every religious tradition are invited to engage in conversations about faith, God, social justice, the search for truth, the desire for peace, global issues, ethics and the dignity of humanity. A Catholic and Jesuit education at Marquette is marked by the active intersection of the Gospel with culture and the intellect, as well as a deep commitment to the well-being of the whole human family.  
Marquette's goal is to graduate students who are transformed by their education and who will transform the world in which they live — who will, in a phrase, become women and men for and with others.  
Application Due Date: 2019-11-25
Job Start Date: 2019-12-16
Salary: Dependent on qualifications and experience.
City: Milwaukee
State/Province/Region: WI
Institution: Marquette University
Reports To: Associate Director
Staff # Reporting to Position: 0
Reports In Office: Institutional Research and Analysis
---
Search for openings in IR, effectiveness, assessment, planning, and related fields at higher education institutions in the U.S. and abroad.
Job Board
Resources & Tools