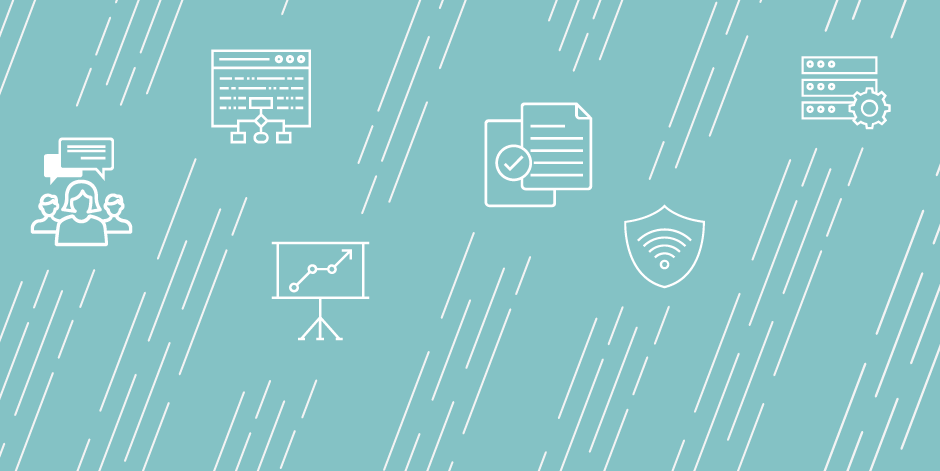 Data Visualization Developer and Analyst
Application Procedure:
SDSU accepts applications through an on-line employment site.  To apply, visit:  https://yourfuture.sdbor.edu, search by the position title, view the job announcement, and click on "apply for this job."  The system will guide you through the electronic application form. The employment site will also require the attachment of a cover letter, which should specifically address how the candidate meets the qualifications as outlined in the advertisement, resume, and a reference page with the contact information for three professional references.  Email applications will not be accepted.  Please contact SDSU Human Resources at (605) 688-4128 if you require assistance with this process. 

Direct Link: https://yourfuture.sdbor.edu/postings/16703
Any offer of employment is contingent on the university's verification of credentials and other information required by law and/or university policies, including but not limited to, a criminal background check.  
South Dakota State University is a tobacco free environment.  
For questions on the position, contact Judy McLaughlin at judy.mclaughlin@sdstate.edu or (605) 688-4673. 
Job Duties
The Office of Institutional Research (OIR) invites applications for a 12-month, full-time, benefit-eligible Data Visualization Developer and Analyst. The Analyst works within IR to work collaboratively to understand, develop and support the institution's reporting, data, and analytical needs. Experience working with postsecondary data and institutional research including interpretation and presentation of data plus knowledge of SAS, R, or SPSS, SQL, Cognos, and/or Tableau is preferred.
 The Data Visualization Developer and Analyst's role is to create business intelligence tools and reports to support the use of a campus-wide business intelligence and decision support system; compile multiple visualizations into intuitive dashboards for campus-wide use; work with members of the entire campus community to define data analytic needs and reporting requirements; design, code, test, and aggregate results from  queries to generate complex analyses, reports, dashboards, and visualizations that support decision making and planning at all levels of university functioning; extracts data from operational systems, reorganize and structure the data for analysis purposes, and move it into reporting structures; assure the accuracy and integrity of data; and assist in support and training with end users to maximize their ability to use the decision support system and/or dashboards.
 Must be authorized to work in the U.S.  Sponsorship is not available for this position.
 SDSU is especially interested in candidates that can contribute to and/or coordinate course offerings that address the experiences of underrepresented minorities in organizations. Women, minorities, veterans, and people with disabilities are especially encouraged to apply.
Job Qualifications
Required Education
Bachelor's degree from a regionally accredited institution in Mathematics and Statistics, Computer Science, Data Science, Social Sciences or a closely related technical field by date of application.
Required Qualifications
At least three years of experience in an Institutional Research or Institutional Effectiveness office (or related work);
Demonstrated expertise with statistical programming, data management, data visualization software and research tools such as Cognos, Qualtrics, SPSS, R, Stata, SAS, SQL, and/or Tableau;
Effective written and verbal communication skills;
Effective interpersonal skills;
Demonstrated experience in designing data visualizations.
Preferred Qualifications
Master's degree from a regionally accredited institution in Mathematics and Statistics, Computer Science, Data Science, Social Sciences or a closely related technical field;
Strong quantitative and analytical skills to ensure accuracy and integrity of data;
Experience working with large data sets and merging data from multiple sources;
Demonstrated experience in using databases with a content emphasis in higher education (enterprise or derivative) systems (e.g. Banner, Colleague, etc.);
Demonstrated ability to effectively prioritize a wide variety of unrelated projects while under firm deadlines;
Ability to troubleshoot and problem solve;
Exceptional communication skills;
Utilize feedback to continuously improve processes;
Demonstrated ability to work collaboratively in a team environment and with college departments across the University and cross-functional teams;
Demonstrated evidence and understanding of the concepts of diversity and multiculturalism and their application in the workplace.
Knowledge of and commitment to the mission of South Dakota State University.
Institution Description
UNIVERSITY/COMMUNITY:
South Dakota State University is the state's largest, most comprehensive higher education institution.  According to Forbes, SDSU is the #2 best employer in SD.  As South Dakota's Morrill Act land-grant university, SDSU had a fall 2018 enrollment of 12,107 students.  There are ongoing efforts to bring a greater global perspective to the campus to increase diversity. 
 From its roots as a land grant university established in Brookings, South Dakota in 1881, SDSU today is a vibrant, complex Carnegie Research University – High Intensity institution. It competes in Division I Athletics, is a member of the Missouri Valley Football Conference and participates in the Summit League for most other sports.
 With exceptional alumni, community, and Foundation support for student scholarships as well as all aspects of campus life, SDSU is the center of life in Brookings.  Brookings, a community of approximately 23,000, is located in eastern South Dakota along Interstate 29, just one hour north of the state's largest city – Sioux Falls. Brookings is a safe, family-friendly, vibrant, thriving community with many amenities you would find in a much larger city but with a small-town feel. Residents enjoy the tree-lined streets, leisurely pace of living, a short commute time and a variety of career opportunities in a growing job market. Division I South Dakota State University creates a youthful and energetic atmosphere and provides residents with a multitude of athletic, cultural, educational and recreational activities.
 The top-ranked Brookings School District offers small classroom sizes and highly qualified, experienced teachers. The city boasts an abundance of attractions and activities such as the Children's Museum of S.D., Dakota Nature Park, S.D. Art Museum, McCrory Gardens, S.D. Ag Heritage Museum, Outdoor Adventure Center of S.D., Downtown at Sundown, and the Brookings Summer Arts Festival.  Brookings is consistently ranked as a top place to live. Recent accolades include: #1 Best Place to Live in S.D., #25 Best City for Entrepreneurs, #2 Best School District in S.D., Top 10 Best Small Towns in America, Safest College Town in America, and the Top 25 Safest Cities in America. Learn more about Brookings by visiting https://www.youtube.com/watch?v=IT8OnH5eIgQ&feature=youtu.be.
Benefits
South Dakota State University offers a wide range of benefits including medical, dental, and flexible benefits, retirement plans, compensation packages, paid holidays, and vacation leave.  Employees also have access to internal and state-sponsored training as well as reduced tuition for state-supported courses at all State of South Dakota academic institutions.
Application Due Date: 2019-10-09
Job Start Date: 2019-10-01
Salary: Dependent on qualifications and experience.
City: Brookings
State/Province/Region: SD
Institution: South Dakota State University
Reports To: Director of Institutional Research
Staff # Reporting to Position: 0
Reports In Office: Institutional Research
---
Search for openings in IR, effectiveness, assessment, planning, and related fields at higher education institutions in the U.S. and abroad.
Job Board
Resources & Tools