Evergreen Prize, IHEP Better Data Framework, and SHEEO RFP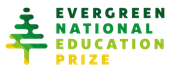 During the last week of October, three college-access nonprofits from across the country pitched to a panel of judges at the 2nd-annual Evergreen National Education Prize Finalist Pitch Competition and Awards Ceremony in New York City. The judges had a difficult choice to make; ultimately, Austin-based College Forward took first place, receiving $100,000 in funding. The Opportunity Network in New York City won the $15,000 2nd place prize, and Seattle-based Get Schooled was the 3rd place winner of $10,000. College Forward won the 2019 Evergreen National Education Prize with a compelling presentation from CEO Austin Buchan. Their mission is to coach under-served, motivated students to achieve the benefits of higher education and a college degree.
---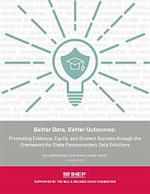 IHEP's latest postsecondary data product, Better Data, Better Outcomes: Promoting Evidence, Equity, and Student Success through the Framework for State Postsecondary Data Solutions is now available. Recognizing that many states face challenges in fully leveraging their data to promote student success, this new resource identifies critical obstacles and provides guidance to help states overcome them. IHEP hopes the Framework will enable and empower states to become stronger data champions in ways that promote greater, more equitable levels of student success.
---

SHEEO, with generous financial support from Arnold Ventures, is seeking to fund up to six independent research projects to advance the field's collective understanding of state efforts in the authorization of postsecondary institutions. Proposals must be submitted to SHEEO on or before 1/15/2020. The timeline for the projects is approximately 18 months and will culminate in a peer-reviewed research manuscript and corresponding blog post. SHEEO is most interested in funding research that provides states with evidence-based recommendations to improve state authorization. For more details, please read the detailed RFP and attend the webinar on 11/22/2019 at noon ET/10 a.m. MT.
Back to Announcements