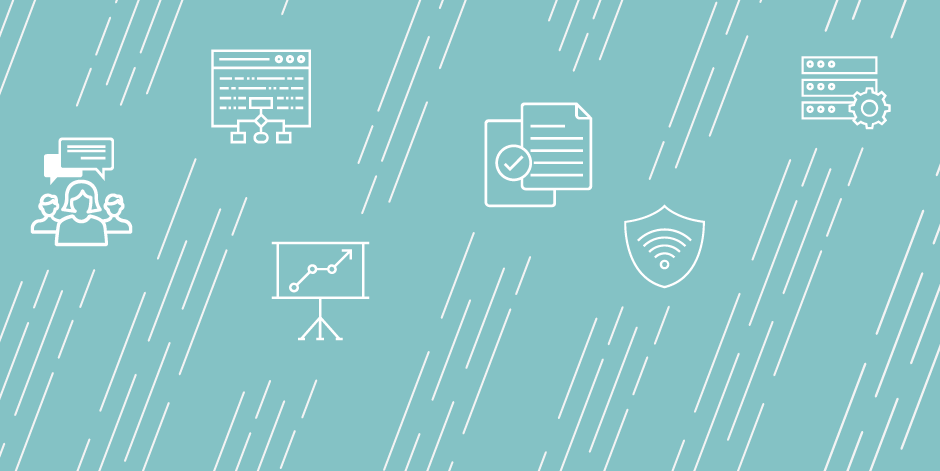 This policy addresses the use of personal information by the Association for Institutional Research (AIR). Included in this policy are members, consumers of products and services, and others who engage with the Association (referred to as "users").
INFORMATION COLLECTION
AIR does not collect any personal information from general website visitors (www.airweb.org). However, when users create accounts, log into their accounts, or request information from the Association, personal information may be requested. Any information collected is for internal use and will not be shared with or disclosed to third parties without consent.
When AIR collects personal information, it is with the intent to better serve users. Basic information requested of users may include:
REQUIRED INFORMATION
The following information is required to set up an AIR user account. Individuals who interact with AIR solely by telephone or postal mail and do not provide email addresses may be listed in AIR records by first and last name only.
First name

Last name

Email address(es)
ADDITIONAL INFORMATION
The following information may be required of users in online and offline transactions, surveys, information requests, and/or the purchase of products and services.
Nickname/preferred name

Institution/organization affiliation

Postal address(es)

Phone number(s)

Employment Information

Current and past job title(s)

Current and past employer(s)

Years/duration of employment

Position description(s)

Professional and scholarly experience(s)

Education Levels/Degrees Attained

Race/ethnicity

Sex/gender

Year of birth

AIR username and password

Records of transactions with AIR

Emergency contact information

Conference presentation information (proposals and past activity)

Conference session attendance, selection, and feedback

AIR maintains speakers'/presenters' biographical information used in relevant event online programs and stores event evaluation results

Dietary preferences (for event planning purposes)
INFORMATION USE
Typically, AIR uses the personal information collected to:
Respond to inquiries and requests;

Communicate transactional information, such as receipts for products/services or event registration information;

Process Association membership, or relay information about membership;

Provide user access to electronic mailing lists, newsletters, or databases; and/or

Contact users about the products/services for which they have expressed interest.
SHARING INFORMATION
AIR shares information about participants in the annual conference (the Forum) in the following ways:
Names and postal addresses are provided to Forum sponsors for that conference only.

Email addresses are provided to Forum sponsors if users opt in to have their information shared.

Names, institutions/affiliations, and contact information is made available in the Forum event app, unless users opt out.

Names, institutions/affiliations, and contact information is made available in the AIR member directory unless users opt out.
CHANGING/UPDATING PERSONAL INFORMATION
Users who wish to amend or remove personal information stored by AIR should:
COOKIES
AIR uses cookies to help manage its website in an effort to better serve visitors. A cookie is a piece of data that is either maintained only for the duration of a particular session visit or is stored on the user's computer to support future visits. AIR may make use of both types of cookie.
Session cookies are used to enhance and make more efficient the user's experience during a site visit. Once the user closes the browser, the cookie terminates.

Persistent cookies store small text files on the user's hard drive for extended periods of time and "remember" visit activities to help make subsequent visits more efficient. Users may remove persistent cookies by following internet browser help instructions.
SURVEYS
AIR periodically offers users and other members of the higher education community the opportunity to participate in surveys. The purpose of each survey is clearly defined, and participation in these surveys is completely voluntary. When AIR uses third-party services to conduct surveys, those services are prohibited from employing AIR users' personally identifiable information for any other purpose. AIR never shares users' personally identifiable information with third parties without consent.
CONSENT
When AIR requests sensitive and/or personal information from users, the reason for the request and the intended use of the information is clearly stated. If more information is desired, the user should respond to the requestor directly, or contact AIR via email air@airweb.org. By consenting to this privacy policy, users provide AIR permission to collect personal data specifically for the purposes identified at the time requests are made. Consent is required for AIR to collect personal data, and it must be explicitly provided by users. By using the AIR website or engaging with AIR products/services, users consent to this privacy policy. Users may withdraw consent at any time via email air@airweb.org with a subject line of "Personal Consent Withdrawal."
THIRD PARTIES
AIR employs the services of third parties to support its business practices and services provided to users.
Google Analytics

AIR uses Google Analytics, a web analytics service provided by Google, Inc. ("Google"). Google Analytics uses persistent cookies to analyze how users interact with a website. The information generated by the cookie about use of the website (including users' IP addresses) is transmitted to and stored by Google. Google uses this information to compile reports on website activity for website operators and provides other services relating to website activity and internet use. Google may also transfer this information to third parties when required to do so by law, or when third parties process the information on Google's behalf. Google will not associate users' IP addresses with any other data held by Google.

Refusing use of Google Analytics. Users may refuse the use of cookies by selecting the appropriate settings in their browsers; however, doing so may affect full functionality of the AIR website. By using the AIR website, users consent to the processing of data about their activity by Google in the manner and for the purposes set out above. The Google Privacy Policy and the Google Analytics Terms of Service provide detailed information.

Email Messages and Newsletter: MailChimp

AIR uses MailChimp to deliver its newsletter, eAIR, and to disseminate some Association email messages. AIR gathers statistics on email open rates and clicks using industry standard technologies in an effort to monitor and improve its services. The MailChimp privacy notice provides detailed information.

Unsubscribing from eAIR and general email messages. Users may unsubscribe from eAIR and/or other AIR mailings at any time by clicking the unsubscribe link at the bottom of any email message or by emailing AIR at air@airweb.org.

Annual Conference (Forum) App: DoubleDutch

DoubleDutch provides the Forum App. AIR gathers statistics and information regarding conference participants' session choices, session/workshop evaluations, and any demographic information users opt to provide. The DoubleDutch privacy policy provides detailed information.

Unsubscribing from the Forum App. Users who have questions about removing their information from the conference app may contact the Forum team at forum@airweb.org.

Annual Conference (Forum) Proposal System: Hubb

AIR uses Hubb to manage the Forum proposal submission and selection processes. All information that prospective presenters provide to AIR are retained in Hubb, including, but not limited to, proposers' names, email addresses, sessions titles, abstracts, and supporting documentation. Questions about Hubb may be directed to the Forum team at forum@airweb.org. The Hubb privacy statement provides detailed information.

Learning Management System: WBT Systems

AIR uses a WBT Systems product, TopClass, for online course delivery via a learning management system (LMS). Course participants' names and email addresses may be used by AIR staff and instructors to provide individuals with updates and feedback. Information about course assignments, exercises, test scores, participant progress, and content posted to the online discussion board is used only by AIR. Questions about the LMS may be directed to AIR at air@airweb.org. The WBT Systems privacy policy provides detailed information.
SECURITY
AIR takes the security of users' personal information seriously and is committed to ensuring that its information technology (IT) systems, infrastructure, and applications are secure. Unfortunately, the transmission of information via the internet is not completely secure. Therefore, AIR cannot guarantee the security of users' information transmitted to our website. Any transmission of personal information via the AIR website is at the user's risk. AIR does not assume any liability for third-party use of general or personal information, whether obtained legally or illegally from or through its website.
COMPROMISE OF INFORMATION
In the event that any personal information under AIR's control is compromised as a result of a breach of security, AIR will take reasonable steps to investigate and resolve the situation in a timely manner, and where appropriate, notify individuals whose information may have been at risk. In all such situations, AIR will take any and all necessary steps in accordance with applicable laws.
LEGAL DISCLAIMER
AIR reserves the right to disclose users' personally identifiable information as required by law and when it is determined that disclosure is necessary to protect the rights, property, or safety of the Association, its users, customers, or others; or to comply with judicial proceedings, court orders, or legal processes served on or otherwise required of the Association.
INTERNATIONAL USERS
This website is hosted from the United States (U.S.). Users located outside of the U.S. consent to the transfer of their data to the U.S. for processing and use in accordance with this privacy policy.
CHANGES IN THIS PRIVACY POLICY
AIR reserves the right to modify this privacy policy at any time. All changes are posted to this page, as indicated by the revision date noted at the bottom of the page. User consent is based on the specifications of this privacy policy at time of use, and it is the user's responsibility to familiarize oneself with the policy, including revisions.
Updated: May 18, 2018