National Survey Data Bite

02.20.19
Data Bite February 2019
The Statement of Aspirational Practice for Institutional Research advances the need for executive level leadership of the data and analytics function at post-secondary institutions. The role is "broader than a traditional director of institutional research in that the [chief] is responsible for the tactical and strategic direction of the institutional research function" (p. 3). The 2018 National Survey of IR Offices sought to determine the degree to which institutions have implemented this role.
Preliminary results from the National Survey show that, in aggregate, 38% of IR Office leaders serve as "Chief Data Officers" (or equivalent), and another 6% of institutions have Chief Data Officer positions, but they are staffed by individuals who are not the IR Office leaders. We also learned that public 2-year institutions are more likely to have executive leadership for the data and analytics function while private, not-for-profit, 4-year institutions are least likely to have the role.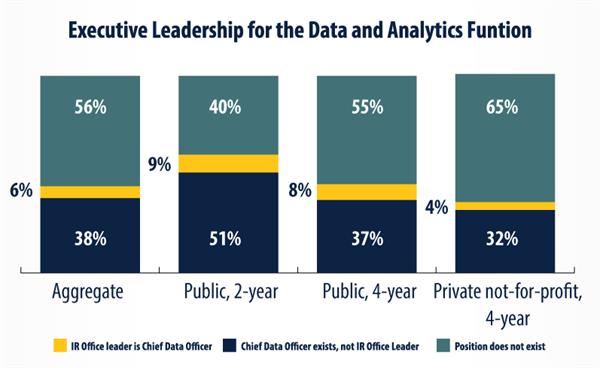 For more information, or to participate in the study, please visit the National Survey webpage.
Back to National Survey Data Bite