The State of Race and Ethnicity in the Higher Education Landscape
by

Lorelle Espinosa, Vice President for Research, American Council on Education & Jonathan Turk, Associate Director for Research, American Council on Education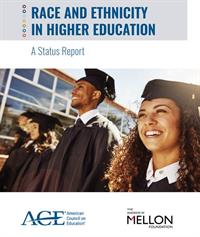 Last month in Washington, D.C., our team released a major report and an accompanying website that explore the evolving state of race and ethnicity in the higher education landscape. The findings show that while the number of students of color on our nation's college and university campuses continues to rise, gaps in access, attainment, and debt levels remain by race and ethnicity.
The report, Race and Ethnicity in Higher Education: A Status Report, examines more than 200 indicators drawn from 11 principal data sources, including IPEDS, the National Postsecondary Student Aid Study, the National Student Clearinghouse, American Community Survey, and others. The report and accompanying microsite, www.equityinhighered.org provide a data-informed foundation for those working to close persistent equity gaps by providing a glimpse into the educational pathways of today's college students and the educators who serve them.
We believe that in order for institutional leaders and policymakers to close equity gaps, they must first know where the gaps are. One of our major goals for this work was to provide education leaders with important data on students' journey into, through, and out of higher education disaggregated by race and ethnicity, gender, and income level.
Some key findings from the report:
Over the past 20 years, the U.S. population has become both more educated and more diverse, thanks in large part to a growing Hispanic population enrolling in college.
Too many Black students fare poorly in America's postsecondary education system. At both the undergraduate and graduate levels, advances in Black students' enrollment and attainment have been accompanied by some of the lowest persistence rates, highest undergraduate dropout rates, highest borrowing rates, and largest debt burdens of any group.
There is a lack of precise, national data on many educational outcomes for American Indians or Alaska Natives and Native Hawaiians or other Pacific Islanders—but what the available data do show is troubling.
Great differences exist by race, ethnicity, and gender in where students go to college and what they study, signaling an uneven playing field in the labor market and a threat to the opportunity for intergenerational upward mobility.
How students pay for higher education varied considerably by race and ethnicity, especially in terms of who borrows and who leaves college with high levels of student loan debt.
As a higher education community, we ought to be very concerned about what are, in many cases, longstanding trends that show differing levels of postsecondary access and success across racial and ethnic groups. It's encouraging to see more students of color pursuing undergraduate and graduate education than 20 years ago. However, as policymakers, institutional leaders, and others seek to make college more accessible and affordable for everyone, it is important to recognize the many barriers and uneven levels of opportunity facing students of color.
Visit www.equityinhighered.org to learn more about the project and to download the full report containing more than 200 indicators on race and ethnicity. Also available on the site are downloadable figures, detailed data, and other resources on race and ethnicity in higher education. ACE will be updating this site quarterly and encourages researchers, policymakers, and institutional leaders to visit often.
Race and Ethnicity in Higher Education: A Status Report and the website were made possible through the generous support from The Andrew W. Mellon Foundation, and were guided by an advisory committee of experts specializing in issues related to diversity, equity, economics, and public policy, chaired by Sandy Baum of the Urban Institute. The Research Triangle Institute International collaborated with ACE on project conception, data, and microsite construction.
Back to Special Features