Stylus Releases New Volume In Partnership With AIR, ACE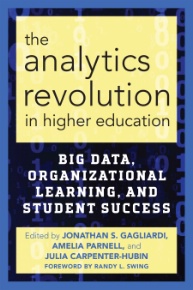 Tallahassee, Fla. – (July 11, 2018) – The Association for Institutional Research (AIR) announced today a new volume from Stylus Publishing, co-published with AIR and ACE. The new book, The Analytics Revolution in Higher Education: Big Data, Organizational Learning, and Student Success, is edited by AIR members Jonathan S. Gagliardi, Amelia Parnell, and Julia Carpenter-Hubin with a Foreword by Randy Swing.
This volume helps readers understand and respond to the"analytics revolution," examining the evolving dynamics of the institutional research (IR) function, and the many audiences that institutional researchers need to serve.
The book suggests that the IR function must become that of teacher, ensuring that data and analyses are accurate, timely, accessible, and compelling, whether produced by an IR office or some other source. Despite formidable challenges, IR functions have begun to leverage big data and unlock the power of predictive tools and techniques, contributing to improved student outcomes.
AIR members receive a discount off the book's cover price. Members of the general public may purchase the book here.
About AIR
The Association for Institutional Research (AIR) is the world's largest professional association for institutional research, effectiveness, and assessment professionals. Incorporated in 1966, its primary purpose is to support its more than 3,000 members in the process of developing and providing information and analyses in support of decision-making in higher education. AIR provides educational resources, information on best practices, and professional development opportunities for members and the IR community. For more information, visit www.airweb.org.
About Stylus Publishing
A leading publisher of books on higher education, Stylus markets and distributes throughout the Americas the lists of a number of independent publishers and leading NGOs and research institutions to bring interested parties the latest work in the fields of agriculture, business, economic development, education, electronic engineering, health, human rights, the natural sciences, and sustainability. Visit styluspub.presswarehouse.com for more information.
About ACE
ACE is the major coordinating body for the nation's colleges and universities. ACE's strength lies in a diverse base of member institutions. ACE represents nearly 1,800 college and university presidents and the executives at related associations, and is the only major higher education association to represent all types of U.S. accredited, degree-granting institutions: two-year and four-year, public and private. Learn more at www.acenet.edu.
---
Contact
Association for Institutional Research
1435 Piedmont Drive East, Suite 211
Tallahassee, FL 32308
Phone: 850-385-4155 Fax: 850-385-5180
Email: communications@airweb.org