From Professional Development to Professional Responsibility: My Journey to a New Understanding
by

Shari Ellertson - AIR Board Member at Large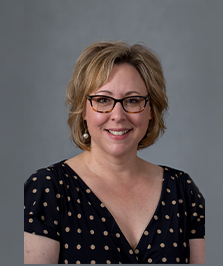 Back in the day, my professor in graduate school gave me a nudge to submit a proposal for a national conference. My first thought was "Wow, really?!" I thought it was neat that someone I admired so much thought this was something I could do.
Then, I thought, "Who me? I'm not sure I have anything to say!" He assured me that the evaluation project I had been working on was worth talking about. After all, if our institution was wrestling with how to address an issue, then certainly, others were too. That made sense and it felt good to know we were probably not alone.
"But I don't know that I have the best example," I countered. He said that nobody had "THE" answer. Rather, he suggested, we could spark a discussion with others by bringing this topic to the surface. He was so enthusiastic about the possibilities of getting a discussion started. That was new to me, as I had been thinking of the conference as more of a one-way classroom rather than a two-way conversation.
"Well, I'm nervous about speaking to a large audience. A lot of people at the conference have much more experience than I do," I said. He suggested that this would be a great way to pick the brains of others who may have already encountered this topic in their work. Also a good point, I thought. I could actually ask other people for input on MY project. Plus, I could stretch my presentation skills; I had given plenty of presentations in class and they had always gone just fine.
"But what if they ask me questions I don't know the answers to. I don't want to look foolish." He assured me that nobody has answers to all questions. I really didn't understand how he could be saying this. After all, he had written/produced literally hundreds of articles and presentations. He asked me what the worst thing that could happen would be if someone asked a question I couldn't answer. "Well, I guess I could just tell the person I don't know or write down their question and get back to them," I said. He suggested that I could also ask other audience members if they had the answer. That didn't sound so bad. I would prepare the presentation to the very best of my ability, and be open to questions for which I may not have an answer.
Our conversation turned from one of professional development for me (what would I gain?) to one of professional responsibility (what could I give?). I realized my education and experiences were not simply a means to an end (obtaining a job or being promoted) but, really, just a beginning. My education was preparing me to contribute to the profession, and it was my responsibility to do so. Wow.
I have carried that lesson with me throughout my career .
The 2019 AIR Forum Call for Proposals is now open. What can you give of yourself and your work to others? How can you spark a discussion? How can you contribute to a greater understanding of the field?
Will you accept the call to fulfill our professional responsibility? I sincerely hope you do