2018-2019 Annual Report Released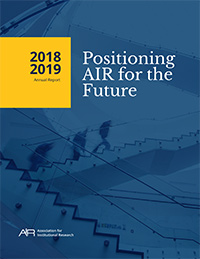 Tallahassee, Fla. – (August 9, 2019) – AIR is pleased to present the 2018-2019 Annual Report, now available for download.
Highlighting some of the important work the association has accomplished during the past year, the report features several achievements, including a new ends policy, a new proposed ethics statement, new technology, new partnerships, new outreach, new tools, and new educational opportunities.
Some of AIR's most meaningful work this past year centered on the mission and vision. Both promote the value of IR while also welcoming all those who value data-informed decision making in higher education. In addition, the proposed Statement of Ethical Principles, which supports AIR's vision, strives to exemplify the standards to which all higher education professionals who use data should aspire.
Access the report (pdf) to learn more about the association's vision and mission and the accomplishments that have positioned AIR to achieve them moving forward.
About AIR
The Association for Institutional Research (AIR) is the world's largest professional association for institutional research, effectiveness, and assessment professionals. Incorporated in 1966, its primary purpose is to support its more than 3,000 members in the process of developing and providing information and analyses in support of decision-making in higher education. AIR provides educational resources, information on best practices, and professional development opportunities for members and the IR community. For more information, visit www.airweb.org.
# # #
Contact
Association for Institutional Research
1435 Piedmont Drive East, Suite 211
Tallahassee, FL 32308
Phone: 850-385-4155 Fax: 850-385-5180
Email: communications@airweb.org