New Book Published With Content by AIR Staff
Just released by Stylus Publishing, Trends in Assessment: Ideas, Opportunities, and Issues for Higher Education, addresses how AIR and our partners support assessment.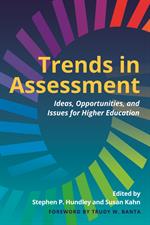 Edited by Stephen P. Hundley and Susan Kahn, the volume includes chapters by acknowledged experts who describe how emerging assessment trends and ideas apply to their programs and pedagogies. Other chapters point to a future of assessment and identify several assessment meta-trends.
AIR's Stephan Cooley, Project Analyst, and Leah Ewing Ross, Senior Director for Research & Initiatives, contributed to Chapter 12, "Meta-Trends in Assessment: Perspectives, Analyses, and Future Directions" by Stephen P. Hundley, Susan Kahn, Jeffery Barbee, and Partners of the Assessment Institute.
In addition to AIR, partners include:
Association for the Assessment of Learning in Higher Education (AALHE)
Association for Authentic, Experiential, and Evidence-Based Learning (AAEEBL)
Association for General and Liberal Studies (AGLS)
Association of American Colleges and Universities (AAC&U)
Center for Postsecondary Research (CPR) / National Survey of Student Engagement (NSSE)
Higher Education Data Sharing Consortium (HEDS)