AIR Scholarships and Awards Recognize Contributions to IR and the Association
Each year, AIR recognizes colleagues who have made contributions to the success of the association and to the institutional research profession by granting scholarships and awards to deserving individuals. AIR scholarships help ensure a strong pipeline of future institutional research leaders, while awards recognize the contributions of current and past leaders. These programs promote the important work we do by promoting those who do good work.
Let's take a look at some of the recent scholarship recipients and award winners.
Scholarships
AIR provides two scholarships that facilitate the professional growth and development of early-career institutional research professionals. Both scholarships are available to current AIR members and are awarded on an annual basis. Combined, 28 members have received these valuable scholarships since 2013.
The Julia M. Duckwall Scholarship facilitates the professional growth and development of early career institutional research professionals by supporting significant professional development activities. The 2019 scholarship recipients included India Hampton, Research Analyst, Southeast Missouri State University; Brooke Kile, Director, Institutional Research, Marian University; and William Warfel, Administrative Planning Specialist, Washington State University.
The Edward Delaney Scholarship facilitates the professional growth and development of early career institutional research professionals by providing travel assistance to AIR's annual Forum. The 2019 recipient of this scholarship was Samantha Rogers, Senior Institutional Researcher, Georgia Highlands College.
Awards
AIR Awards provide global recognition for individuals who have made extraordinary contributions to the success of the association and the profession through their leadership, service, and scholarship. Since 1966, 129 IR professionals have been the recipient of one or more of these awards, raising the visibility of those who advance data-informed decision making in higher education. Details for 2019 winners and photos taken at AIR Forum in Denver are reflected below.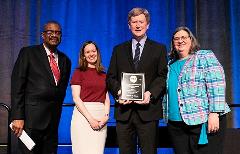 Outstanding Service Award – Glenn W. James, Director of Institutional Research, Tennessee Tech University. Glenn was nominated, in part, due to his extraordinary leadership within the profession; holding leadership positions in all three professional associations in which he is a member; and presenting at many conferences, volunteering, and mentoring newcomers. In his letter of acceptance, Glenn said, "I am humbled and very grateful to receive the AIR Outstanding Service Award. This recognition is and always will be very special to me. The Association for Institutional Research, the learning experiences associated with our organization, and especially the colleagues with whom I have interacted and learned have been amazing and are treasured."
John Stecklein Distinguished Member Award – Lydia Snover, Director of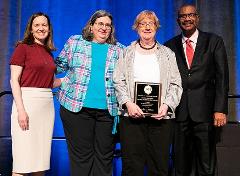 Institutional Research, Office of the Provost, Massachusetts Institute of Technology. Lydia's nomination was based, in part, on her relentless dedication to the field of IR, sharing of expertise, and mentoring others in professional activities. One nominator said that while Lydia's contributions to the field may not be measured in papers and citations, her influence has been one of sustained energy, positivity, and leading by involvement, example, and encouragement. In her acceptance letter, Lydia stated, "I was astonished to receive the news that I had been selected to receive the 2019 AIR John Stecklein Distinguished Member Award. There are so many talented people in IR that have made outstanding contributions to the community of higher education in the U.S. I am proud to be part of this distinguished group."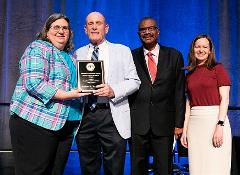 Sidney Suslow Scholar Award – Richard (Rick) Voorhees, Principal and Senior Scientist, Voorhees Group LLC. Rick's nominators asserted that during his 30+ year career, he has made a number of sustained contributions to the field of IR through scholarly work; having been editor, co-editor, and contributor for numerous journals, books, and papers related to the field. Additionally, one colleague wrote that Rick is accessible and available, reinforces quality research, and practices inquiry that makes a difference. Rick said in his letter of acceptance, "I am delighted and grateful to be named the 2019 Sidney Suslow Scholar. In accepting this award, I'm mindful of the foundations that Sidney Suslow laid for all of us to engage in meaningful and impactful scholarship." He concluded, "A distinct joy in life is to be well thought of by people of whom you think well."
Another prestigious AIR award, the Charles F. Elton Best Paper Award, promotes scholarship and acknowledges that AIR members make a wide variety of scholarly contributions to the field, ranging from theory to practice. Papers presented at the AIR Forum that are subsequently accepted for publishing in a peer reviewed journal are eligible for this award. The most recent recipient of this award is Iryna Johnson, Associate Director for Analytics, Auburn University, for her paper: "Destinations of Out-of-State Students: A Case of One Institution" that was published in Research in Higher Education in May of 2019. Since 2014, 25 papers (comprising 52 authors) have qualified for this esteemed award.
To learn more about awards and scholarships, visit the AIR website. Nominations and applications for the 2020 programs are due December 16, 2019.