About the Institute
The NCES Data Institute: Using Federal Datasets to Support Research on Postsecondary Education (Institute) provides an intensive introduction to National Center for Education Statistics (NCES) datasets and research methodologies.
The Institute is ideal for:
Graduate students
Early- to mid-career IR professionals
Faculty
Staff from state and federal agencies and other higher education organizations.
Note: Participants must be affiliated with a U.S. postsecondary education institution, U.S. state or federal agency, or U.S.-affiliated higher education association or non-profit entity.
The Institute is limited to 30 participants who'd like to:
Increase their knowledge of IPEDS and other NCES datasets
Apply their new knowledge of IPEDS and other NCES datasets in a group setting
Understand how federal data are utilized in postsecondary education research
Form their own higher education research agendas
Learn more about the Institute from past participants.
2024 Application Process Has Closed
---
Institute Components
5-week online course
18-week group capstone project
3-day in-person meeting in Washington, D.C.
About the 2024 Application Process
For information about the application process and requirements, download the guidelines document (PDF).
Important Dates
September 25, 2023: Application process opened (9 a.m. ET)
October 25, 2023: Application process closed (11:59 p.m. ET)
January 2, 2024: Applicants will be notified via email from AIR
January 16, 2024: Online course begins (find detailed schedule of Institute components below)
2024 Institute Components*
5-week online course
18-week group capstone project
3-day in-person meeting in Washington, D.C.
*Each of these components builds on one another to create a holistic learning experience. Participants are required to participate in and complete all elements of the Institute.
Cost: While there is no charge for any component of the Institute, participants are responsible for the cost to attend the in-person meeting (travel, lodging, and meals).
Detailed Schedule
January 16 – February 18, 2024
5-week online course
Prior to starting the course, participants are assigned to a research group. Course material includes:
An intensive introduction to NCES datasets
An introduction to research methodologies when using national datasets
Exercises that reinforce the content and allow participants to apply their new knowledge
February 19 – June 21, 2024
18-week capstone project
Immediately following completion of the online course, each research group—with guidance from mentors—works together to complete a research project, which includes:
Exploring potential research topics
Conducting a literature review
Developing a group research question
Identifying relevant NCES datasets
Performing analysis using public-use data
Writing an executive summary
Preparing a PowerPoint presentation
June 25–27, 2024
3-day in-person meeting in Washington, D.C.
This collaborative and interactive meeting builds on the knowledge participants gained during the online course and capstone project. The meeting features:
An orientation to the U.S. Department of Education, the Institute of Education Sciences (IES), NCES, and the National Postsecondary Education Cooperative (NPEC).
Panel discussions and speaker presentations on topics such as higher education research, publishing, the role of the higher education community, and policy.
An opportunity for groups to present their research projects to NCES and all meeting participants.
Dedicated time for research groups to refine their projects based on feedback from NCES staff and fellow participants.

Time to develop plans to complete the projects

and

discuss the potential for dissemination of results after the Institute through conference presentations and/or publication

s.
"I cannot put into words how great it has been to learn with and from members of the NCES Data Institute. The skills that I've learned and refined throughout the Institute have opened doors for my future as a policy researcher and student advocate. I would highly recommend the Data Institute to anyone looking for a supportive space to dive into nationally representative data through hands-on learning."

—Kate Farmer, University of Massachusetts Amherst
The Institute is supported by NCES and is developed/operated by AIR. If you have any questions, email NCESDataInstitute@airweb.org or call 850-391-7109.
Research and Scholarship
Access free webinars where past participants share accounts of research projects conducted as part of the Institute since 2018.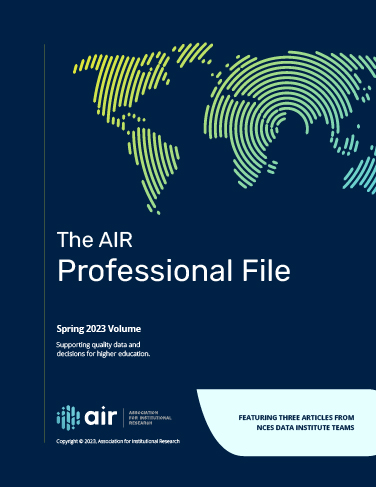 The Spring 2023 Volume of the AIR Professional File contains three articles based on research projects started as part of the Institute.
"Prior to attending the Institute, my usage of federal data was limited to IPEDS. Through the Institute's coursework and the group project, I now feel comfortable using many of the other, student-centered surveys conducted in my own research projects."

—Thomas Zimmerman, Rutgers University–New Brunswick
"I particularly enjoyed the group-based nature of the Institute, which allowed me to work with a variety of stakeholders, communicate my group's findings to diverse audiences, and heighten my public speaking skills ... Know that your participation in the NCES Data Institute will provide far more than increased research skills, it is truly a transformative experience."

—Peter Simpson, Teachers College, Columbia University
"Engaging in research with colleagues from different institutions was a riveting experience. I learned about which journals they read, which issues were important in their circles, and who the interested stakeholders were in their sphere of influence. I enjoyed the experience so much that I encouraged our state AIR group to conduct similar joint research experiences with datasets that would be beneficial to Mississippi."

—Carley Dear, EdD, University of Mississippi Medical Center