Overview
Each year, AIR recognizes and celebrates individuals who have made extraordinary contributions to the success of the association and the profession through their leadership, service, and scholarship.
2023 Awardees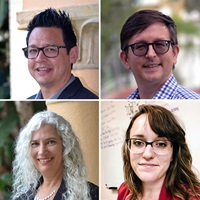 Techno-Capital, Cultural Capital, and the Cultivation of Academic Social Capital: The Case of Adult Online College Students
by William Hamilton, University of Oregon; Daniel E. Duerr, College of Saint Rose; Cheryl Hemphill, Saint Leo University; and Kathleen Colello, Saint Leo University
Selection Process
Each year, the Awards Review Committee assesses nominations against award-specific rubrics and criteria that were developed by the AIR Board of Directors in order to recommend whether to bestow awards and to whom. The committee aligns on the rubric and rating scale, reviews nominations individually, and then meets to finalize recommendations. Depending on the committee's schedule, this can sometimes take through the end of February or into early March.
How Awardees Are Recognized
Recipients will receive a congratulatory letter from the AIR Executive Director and President.
Each awardee's institution president will receive a letter from the AIR Executive Director and President.
Recipients' acceptance letters and letters of support will be published on the AIR website.
An announcement will be included in an issue of eAIR.
Awardees will be recognized during the annual AIR Forum conference.
Awardees will receive official award plaques.
Have an idea for a new award?
Review the procedures PDF. Proposals must be received by July 1 of a given year to be considered for implementation at the following AIR Forum.