VSA Analytics Announcement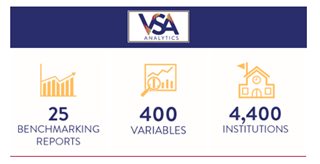 On October 1, the VSA officially became VSA Analytics. With a new platform, new data and new functions, this tool makes it easy for you to use national data for strategic planning and decision making. VSA Analytics combines institutional data from 4 data sources: IPEDS, NSF-HERD, the College Scorecard, and the Student Achievement Measure to bring you 25 key performance metrics on over 4,400 institutions for the last 9 years. To sample the power of VSA Analytics, click here.
If you analyze key performance metrics with peer groups, find out how VSA Analytics lets you save peers groups and create custom visualizations easily. Join us for a complimentary webinar—open to all institutions on October 30 at 2:00 p.m. ET. REGISTER HERE.
Back to Announcements