With Gratitude
by

AIR Board members: Martin Fortner, President; Heather Kelly, Vice President; and Michelle Appel, Immediate Past President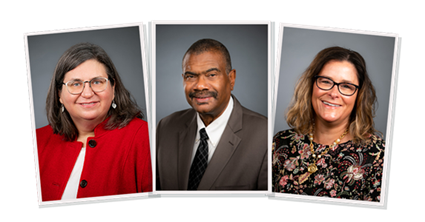 We are grateful for you, our AIR members and Affiliated Organizations, for being engaged professionals. Whether it be presenting at conferences, contributing reports and publications, volunteering and participating in AIR activities, or taking the time to connect with colleagues, you give back to our profession in many ways. For that, we thank you.
We are grateful for our colleagues who are willing to serve the association through leadership roles on the AIR Board of Directors and the Nominations and Elections Committee. We are able to shape the vision and mission of the association and grapple with issues such as the Statement of Ethical Principles, as well as help shape the future leadership of the association. For that, we thank you.
We are grateful for the talented staff at the AIR Executive Office. These are the individuals who are behind the curtain making the magic to bring the mission and vision to life. You can see this in action during the annual AIR Forum, courses, workshops, and IPEDS training. For that, we thank you.
One of the best ways to recognize your colleagues who go above and beyond is through AIR awards. Each year we have the opportunity to nominate colleagues who have made extraordinary contributions to the success of the association and the profession through their leadership, service, and scholarship. This year's nomination process for AIR award opportunities will end December 31.
Serving on the AIR Board is a privilege for which we are grateful. For that, we thank you.
Wishing you a joyous holiday season and new year!
Photo: from left to right: Michelle Appel, Martin Fortner, and Heather Kelly
Back to Board Corner