Fostering a JEDI Mindset
by

Junelyn Peeples, AIR President
One's identity is multifaceted, and the journey in accepting who we are is complex; these are some of my stories.
I actually do not have a preference regarding my pronouns but if I did, then I would defer to she, her, and hers. I identify as a woman of color and affiliate with multiple ethnicities. Each of my siblings including myself are in a bi-racial relationship and our children represent multiple racial groups and ethnicities; we are literally the United Nations. I am an immigrant from the Philippine Islands but a naturalized citizen by statute. I grew up in a low socioeconomic working-class background. I am a first-generation college student and the only one in my family to be awarded a Ph.D.
The breadth and depth of my career spans over two decades in higher education overseeing institutional efficacy. I lead with empathy and aspire to be a thought partner who actively listens, builds trust, and promotes collaboration with principle and integrity that values the people I interact with. I diligently apply professional and personal ethical standards to the responsibilities entrusted to me and nurture a growth mindset.
My professional expertise is to help institutions demonstrate their value and effectiveness. I have served at two- and four-year public and private institutions. I have worked on reaffirmation throughout my career and serve as an accreditation liaison officer. I cultivate teaching and learning pedagogies, foster student success, and use evidence to support decision-making that enhances practices, programs, and policies. I streamline curricular and co-curricular assessment processes to focus on reflection and inquiry of student learning. I evaluate the impact of student success programs. I provide analytical support. I am a mixologist in methodologies. The best part about my work is developing collegial relationships, including the opportunity to make a difference in how the institution supports its community, while maintaining its fiduciary responsibilities to deliver a holistic, transformative, and innovative educational experience.
As an AIR member for over two decades, I am proud to be part of a community of professionals who care so deeply about supporting the efficacy of higher education. I hope my colleagues will see my journey as a part of their own and know they have an ally. I understand what it is like to not have my story represented. Essentially, I became a storyteller of experiences who advocates for all perspectives to be heard and all people to be seen and respected. I am so proud to represent this association as your President. I hope to foster a JEDI (Justice, Equity, Diverse, Inclusion) mindset on how the Board applies policy governance to enhance our field.
My passion is to promote human capacity and strive for a socially just world in an educational setting through a social justice framework. Anaïs Nin denotes, "Life shrinks or expands in proportion with one's courage." Seek courage to tell your story and bear witness to those whose voices you can uplift. It is the first step in how we make human connection with others. My motto is from Tennyson's Ulysses "To strive, to seek, to find, and not to yield." Do not ever yield.
---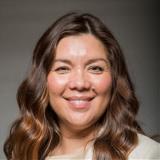 Junelyn serves San José State University as their inaugural Vice Provost for Institutional Effectiveness and Strategic Analytics as well as their Accreditation Liaison Officer. She is the 2021-22 AIR President.
Back to Board Corner