Special Feature / Interview

02.20.19
New Year, New Technology
eAIR recently spoke with Robinson Neidhardt, AIR Strategy Director of Technology, about the new website and user portal (as of January 2019), including what went on behind the scenes of this massive undertaking and what the higher education community can expect from the new systems.

eAIR: What was the impetus for developing a new AIR website and association management system (user portal)?
As AIR grew over the past several years, we began to discover that our electronic offerings were limited in what we could deliver and how we could move forward due to the older nature of the technology in place. As hardware became more and more outdated, we began to look for a solution that would allow us to offer more to our members and users in a more user-friendly format.
eAIR: What was the timeline for this massive undertaking and what were some hurdles encountered along the way?
The process began over two years ago. All internal business processes were analyzed and the requirements were developed. We started with each business unit, going over every process used to deliver services to our members and users, and determined which processes were defined due to technology limitations and which were designed with best practices in mind. Once we had our business processes defined and refined, we developed an RFP that allowed us to look for providers that could best fit our needs both now and in the future, and at the best price point.
The planning for the roll out was the largest hurdle. We would have liked to offer all of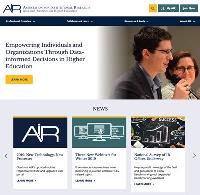 the new services immediately, but that isn't always practical. With the planning of our educational opportunities, Forum, and more, we had to prioritize what we would deliver and when. The AIR Executive Office staff has worked together to prioritize the delivery of various products and services to our members and users.
eAIR: What kind of data and research capabilities will the new association management system provide AIR and how can members/users help AIR maximize its use?
The greatest benefit to our upgrade is bringing all of our disparate sources of information together in one place. We will be able to see the history of our members/users going back 10 years, all in one location. This will enable us to offer appropriate courses, workshops, webinars, and more to match member/user experience levels and interests.
Over the next few months, there will be opportunities for our members and users to update their data: from demographic information, to current job duties, and even to specific interests. This will help us to provide the most pertinent information and help cut down on information that is not as useful.
eAIR: What are some of the key benefits AIR members and the higher education community at large can expect when exploring the new website and user portal?
A new process for registering for the Forum, purchasing webinars, and browsing for other educational offerings should offer a cleaner, smoother process. Information will be easier to find in this new stable, responsive, and mobile friendly environment.
Many of the key benefits are still being implemented, as we move beyond a better looking interface to offering more benefits to help the higher education community become more successful both now and in the future.
Back to Special Features