An Exploration: What is IR?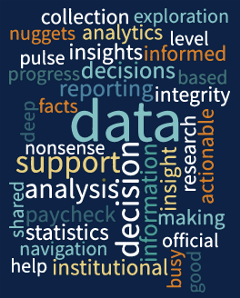 Institutional research (IR) professionals and scholars have continuously revisited the question "What is IR?" One explanation for the recurrent question is that the practice and discipline of IR continues to evolve in response to the changing higher education environment in which it operates. (From the Association for Institutional Research (AIR): The First 50 Years).
Recent work by AIR, including the Statement of Aspirational Practice of IR, the National Survey of IR Offices, and the Duties and Functions of IR have contributed to discussions about the present and future roles of IR and IR professionals within colleges and universities. A panel of emerging leaders in the field of IR (with a little help from the audience) sought to address the current evolution of the profession and the field by answering some timely questions at the 2019 AIR Forum in Denver this past May. This article excerpts some of the engaging content from that session.
Panel Members
Rachana Bhatt, University System of Georgia
Narren Brown, South Central College
Jonathan Gagliardi, Lehman College
Resche Hines, Stetson University
Junelyn Peeples, Scripps College
Moderator
Christine Keller, AIR
How are the core functions and contributions of IR changing with the advent of big data and more sophisticated analytics tools?
Jonathan: More and more, the IR office is being considered the brain of the institution. It's not as much about reporting things anymore. It's "looking around the corner" with data to prepare for the future. More and more people are doing their own data analysis with big data. More and more people will look to us to help lead the charge for the benefit of students and the institution.
Rachana: Ever since I joined the profession, it's everywhere. I see big data having its impact in three broad ways:
With the advent of visualization and presenting the data in a dynamic way, we get more requests to re-package and format data.
Functionally, if you're not using data from a variety of sources, then you're probably not looking at the complete picture.
Data is key to pushing policy. There's an increasing expectation before any policy gets implemented that there's a data-driven reason for implementing it.
What are the institutional structures, processes, and partnerships that can help IR meet the evolving decision support demands of higher education?
Junelyn: Where IR is located in the org chart is extremely important. They need a direct line of sight to the decision makers. Their ability to provide data and recommend actions is important. Build relationships with those key people who will advocate for your department to speak about data. IR is the department that should build bridges across the institution connecting students, faculty, staff, and administrators. It's so important for you to build those relationships, especially in the changing climate of education.
Narren: Even though I am at the table, I still have to build the culture. When I considered this (or any) position, I evaluated whether the institution showed signs of wanting to use evidence in decision making. The organizational structures have to be built, or in place, to encourage a culture that values the use of evidence. Being able to leverage that culture is so important.
Audience question: There are other departments doing data analysis outside of IR. What access should we provide? What is our role?
Narren: I haven't worked for an IR office where I wasn't able to touch every piece of data. Part of the explicit agreement, though, is that I won't expose any sensitive information. You must have full access to the data so you can tell the full story. How can you really see around the corner without access to all of the data?
Jonathan: I don't have the luxury of having access to every piece of data, so I've had to take the approach of building relationships. When shadow systems do exist, I try to bring folks to the table and discuss what they're capturing and trying to do, and how the IR office can enhance what they're doing. We have to be able to "hold hands." There's power in that.
Rachana: When we're not the subject matter expert on something is when the data doesn't always exist in our office. We often collect data on behalf of different departments such as Facilities, but they perform the subsequent reporting and analysis. When there are existing departments and divisions using analytics, having them know that you're available and willing to partner goes a long way.
Junelyn: I actually negotiated having access to all of the data when I started at my institution as part of my responsibilities for capturing (official) census data that I would report for the college. I needed to make sure I could cross-check with multiple areas that also work with data, so the information we reported was accurate and mutually agreed upon. If you do not already have a data governance policy in place, then negotiate a common practice that supports accurate data reporting.
Audience question: What processes should be in place to provide comparative information?
Narren: Tell the story. We might look good comparatively, but is that really good enough for us? For example, being a D in a world of Fs…is that actually good? Do we want to be the school that's better than three quarters of our peers, or the best school that we can be?
Junelyn: What you are really trying to understand is a trajectory of success and what makes you successful. If you don't have the data you need to actually compare yourself, then get on the phone with peers who are similar to you and are your aspirational peers. Find out what they are doing that makes them successful in areas you are trying to improve or enhance. Reach out to your counterparts for the full story that may be missing from the data you do have access to, and find out how to capture data you don't already collect.
Jonathan: Any time you're comparing, someone's not going to be happy about the comparison. Partner with folks you'll compare with. You're not using comparative analysis in a punitive way, you're trying to get better. Frame things as an opportunity to improve with evidence.
Stay tuned for the July edition of eAIR where we'll cover more content from this Impact Session. In the meantime, continue the conversation about IR by tweeting @AIR4Data and using the hashtag #irwatercooler. You can also be part of the poll from the Forum session. What is IR to you?
Back to Special Features