Change with Analytics: Perspectives on How to Use the Statement in Practice
by

Nic Richmond, Pima Community College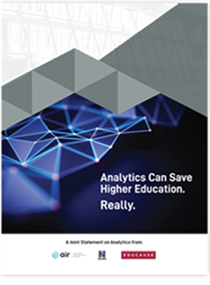 As stated in the Change with Analytics statement, the "Association for Institutional Research (AIR), EDUCAUSE, and the National Association of College and University Business Officers (NACUBO) stand together with a strong sense of urgency to reaffirm higher education's commitment to the use of data and analytics to make better strategic decisions". The statement is a call to action framed around six principles:
Go Big: Make an institutional commitment to analytics
Analytics is a Team Sport: Build your dream team
Prepare for Some Detours on the Road to Success
Invest What You Can: You can't afford not to
Analytics has Real Impact on Real People: Avoid the pitfalls
Tick-Tock, Tick-Tock: The time to act is now
Some of us are already committed to analytics, and we are actively driving an institutional transition toward a culture of data and analytics. For others, some of these principles may seem new and hard to translate into action.
Regardless of your current status, it is critical that we contemplate these principles and consider how we can apply them in practice at our institutions. The time to act is now. What can you do today, in the next week and in the next month to start - or continue - your analytics transformation?
Today
If your institution is getting started with analytics, your first step is to build institutional commitment. Depending on your position within your institution, this may be an email or conversation with your president or chancellor that highlights the potential impact of analytics on student outcomes or other priority initiatives. If your role is more operational, contact your supervisor today or reach out to a colleague with decision making responsibilities and start the process of helping them understand why this matters. It will take time to build institutional commitment, but you can take the first step today.
Go on, do this right now. Send the email or schedule a call. You can read the rest of this article later.
If your institution is experienced with analytics, take a critical look at the units that truly leverage analytics to make decisions and identify those that do not. What is the most critical gap? Is it one of the academic units, the online learning division, the finance office, or something else? Whichever it is, reach out to them today to start the conversation. Share success stories from your institution to help open the door to the conversation.
Also, consider this: How do you release your analytics results? Do you share the findings with the right people? You may rely on data analytics through one of the augmented analytics self-service platforms or perhaps you prepare ad hoc reports for specific users. Maybe you primarily release major reports through your website. Are you sure the right people see your reports? Today - right now - select an important set of results and share them with a decision-maker who needs to know the information. Highlight what the results mean and ways they can be used. More broadly, start to think of your data release mechanism as an "opt-in" or "opt-out" system and make the default that internal stakeholders are automatically "in".
This week
A central issue as we engage in analytics work is equity. Start to focus on that during the first week and know that it will be ongoing priority. As captured in the six principles, analytics impacts real people, and algorithms can reinforce bias and discrimination without careful attention. We can all benefit from taking a serious look at our current analytics - be it primarily descriptive or predictive - and asking ourselves challenging questions to understand if we are inadvertently propagating discrimination. Reflect on this and be courageous. Identify issues and initiate any needed changes. We owe it to our students, our institutions, and our communities to ensure we are working to address inequities.
If your institution is getting started with analytics, set aside time at your next team meeting to discuss analytics. Depending on your group, you can ask them to read the Change with Analytics statement in advance and identify three things your unit could do to initiate organizational change in this area. Are you a member of cross-department committees or operational oversight groups? If yes, add the topic to those agendas as well.
Within your IR office, start to catalog the research you do and the opportunities available to you. Think also about the resources that you have. As you do this, keep your institutional strategic plan, equity, and other priorities in mind. Think about a high-impact analytics project that you can initiate that will help support buy-in. Which students are more likely to pass their classes? How does tutoring or advising impact student success? How is your institutional performance in retention and graduation? Be realistic and ensure you select a project that is achievable with the time and resources available to you. If you have internal stakeholders who are more engaged in the potential of analytics, consider starting with a project in their area.
If your institution is experienced with analytics, think critically about your resources and the analytics that you currently produce. We are all busy and many of us are facing financial challenges resulting from the pandemic and enrollment declines, so we need to think creatively. To get the most bang for your buck, consider leveraging open-source analytics tools, such as R or Python. Perhaps you need to develop a professional development plan. Online platforms, such as Datacamp, TDWI and Coursera, offer inexpensive training options that will help you progress into more advanced analytics.
Do you have the time, resources and skills to progress in analytics? Even institutions that are advanced may have opportunities to build out capabilities. This could be in the natural language processing space if you would benefit from enhancing your survey and social media analytics. Perhaps you want to explore the use of neural networks in your student success studies. There are many options, and you need to consider the correct next step for you. Start to sketch out a roadmap for your analytics next steps, this week.
This month
Regardless of your institutional experience with analytics, I recommend that everyone sets a realistic analytics goal for the first month. It is one step in building a sense of urgency around analytics. This will be different across institutions, depending on your current capabilities in this space. There is no wrong target for the month, but I encourage you to think in terms of setting a stretch goal. Push yourself and your institution and share your goal through the AIR online community,
If your institution is getting started with analytics, focus on building buy-in, selecting analytics technology and developing a professional development plan to build out your capabilities. Here are some example goals that you could consider:
Make a decision about the analytics software you will use
Lead a discussion about analytics with your academic leadership team (or other relevant group) and ensure you leave with a high impact project that aligns with institutional priorities.
Complete a regression analysis on enrollment trends
Start to disaggregate your data by race/ethnicity, gender, age and more, if you do not already, and consider equity in outcomes for the students you serve
Complete a training course on analytics
If your institution is experienced with analytics, look at the roadmap you sketched out in the first week and consider the most impactful step you can take in the first month. That will be unique to you and your institution, but these examples may align with your current status or give you ideas to think about:
Develop a comprehensive communication and training plan to enhance stakeholder buy-in with analytics findings
Complete a machine learning project that looks at student progress and equity to identify opportunities to improve outcomes for the diverse students you serve and communicate the results broadly
Initiate a natural language processing analytics project that leverages data collected through social media
Complete an advanced training course on analytics
Select an important research finding that is not widely used at your institution and engage your stakeholders in a meaningful conversation about the results
Get started
Okay, have you completed the "today" activity yet? You have? Great! If you haven't, be sure to do that next.
Remember, the clock is ticking and the time to act is now. We can make a difference to our students using analytics and we all need to take action today.
Back to Special Features