Come Together, Right Now, Virtually...
by

Dale Amburgey, Assistant Director, Institutional Research, Embry-Riddle Aeronautical University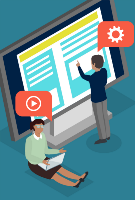 The past year has seen a dramatic shift in interpersonal and interoffice communications at many institutions. In mid-March 2020, our Office of Institutional Research prepared for a two-week window of remote work, with a targeted return in early April 2020. Over 13 months later, we still have not fully returned to campus, but plan to do so by the beginning of the fall semester. In the meantime, the COVID pandemic has provided a remarkable education regarding how to successfully transform communications.
There was no shortage of articles, blogs, and social media posts offering suggestions on how to "pivot" into a remote work environment as the pandemic commenced. Wading through all the information and misinformation became a daunting task, but the resulting research provided some clever ideas on how to insert a human touch to our virtual communications. Our approach to navigating new communication challenges was rooted in a specific goal: ensuring our staff had the tools and support needed to achieve their personal and professional aspirations. The following are several ways in which we tried to achieve that outcome.
Cameras on
Our office collectively decided we would turn our cameras on for virtual meetings. When your camera is turned off, the temptation is greater to become a passive meeting attendee, which impairs the success of the meeting. Leaving your camera on encourages you to focus on the meeting participants and content. I found that I would arrange the videos on my Zoom screen to match where my colleagues would sit during our regularly scheduled meetings. While a bit quirky, it provided a feeling of comfort and normalcy to our group virtual gatherings.
Impromptu is still possible
Some of the most beneficial bonding experiences of an office setting are those impromptu pop-in meetings that help to promote teamwork or serve as a catalyst for improvement. I always enjoyed the first hour of work as my colleagues would stop by to discuss the latest topic of importance to them. In a virtual world, these informal gatherings slowly transformed into chats or video calls. The use of chat had grown considerably pre-pandemic and is even more ubiquitous now. Usually, the chat will lead to an eventual video call to continue the discussion. The feelings of comradery are not limited to physical spaces, and the spontaneity of communication is not compromised.
Embrace fun
It has long been one of my beliefs that fun in the workplace is critical to personal and professional success. Given the uncertainty of how the pandemic would impact higher education, the need for a fun and creative outlet was never more important.
We established virtual "water cooler" meetings to provide an opportunity for our office to gather and talk. We talked about the pandemic and the best series to binge on Netflix (Why did I ever watch Tiger King?), and we conducted virtual tours of new homes. These meetings provided a welcome break from the anxiety of the times and allowed for us to just be entertained.
Trivia matches were another way we bridged communications gaps across different departments. The battle of wits between Institutional Research and our imaging department was one for the ages. Lots of obscure facts were shared, but, more importantly, we were able to reinforce relationships with colleagues outside of our department.
In addition to trivia, we played a unique game of quarantine bingo. Instead of the traditional letter and number combination, our players would enter on a game card letters of the alphabet that corresponded with activities becoming prevalent in the new world at that time. Items such as multiple Amazon deliveries in a timeframe or the number of virtual meetings attended in a day allowed us to bond and find some humor in our new reality.
Embrace your office rituals
As the holiday season approached, we continued to plan a staff holiday party, complete with a competitive gift exchange. Instead of hosting a potluck, we had lunch together that was full of fellowship and laughter. We played a version of holiday trivia that served as the competitive warmup for our gift exchange. Through some creative colleagues, the gift exchange had the same level of competitiveness as if we had been in person.
Our office rituals are rooted in tradition and, by honoring those rituals, we were able to embrace some semblance of normalcy.
The end of the office phone
The rapid replacement of my telephonic conversations was one of the most shocking communication changes I encountered recently. I had been making a conscious effort to replace some emails with phone calls to help shrink the size of my inbox and to increase personal interaction. From what I've seen over the past year, the pandemic may be the curtain call for office telephones because my voice calls transformed from phone calls to Microsoft Teams calls. The fact that I could answer a Teams call through a phone app was even more liberating. In the last 12 months, I would estimate that I have had fewer than 20 phone calls on my direct office line, including calls rolled over to my cell phone. Almost all my "phone" calls are through Teams, and the interface is seamless.
The more things change, the more they remain the same
The pandemic has highlighted that communication amongst colleagues does not rely solely on in-person activities. By creatively using the technology available, you can promote teamwork, collegiality, and togetherness with your staff. I believe we are on the cusp of a great renaissance in how we approach our work in higher education. It is my belief that the future will borrow the best attributes from in-person and virtual interactions to create a hybrid environment that will prove to be more productive and communicative than in the past.
Takeaways
Align on team norms for video conferencing and prioritize using video whenever possible.
Consider how technology can support impromptu interactions, both within and between teams.
Find ways to keep (the good) office rituals alive.
Resist hanging onto methods and platforms that no longer serve your needs.
---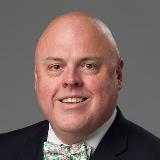 Dale Amburgey, Ed.D. is the Assistant Director of Institutional Research at Embry-Riddle Aeronautical University, where he concentrates on business intelligence, dashboard design, data utilization, and developing data governance frameworks. He has over 24 years of experience in higher education spanning institutional research, enrollment management, and operations.