Members Find Value In AIR Membership, Look to the Future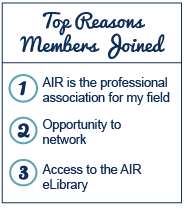 Networking and education are key to helping data and analytics professionals become and remain relevant in the field of institutional research (IR), especially when those opportunities are offered through a professional association.
So say members of the Association for Institutional Research (AIR), the world's largest alliance of higher education professionals dedicated to institutional research, effectiveness, assessment, and planning. AIR's purpose is to empower higher education professionals to use data and analytics to make decisions and take actions that benefit students and institutions.
In its biennial member survey, 800 AIR members spoke up about why they joined the Association, what's in it for them, and how they want to be supported/represented tomorrow and beyond. Here's what they had to say.
Reasons for Joining AIR
According to the 2017-2018 member survey, education and networking opportunities are essential for IR professionals who respond to institutional-wide needs for timely, accurate, and actionable data.
AIR members believe their Association is central to providing those resources. Nearly 90 percent of survey respondents cited AIR as "the professional association for my field" and their primary reason for joining. The "opportunity to network" (57%) and "access to the AIR eLibrary" (43%) - an educational resource provided by AIR - round out the top three reasons for becoming a member.

"AIR is the association for IR professionals who want to look beyond their own backyard for innovative ideas in our field."
Value of AIR Resources & Activities
The annual Forum, resources, studies, publications, and strategic partnerships developed by AIR were the top five items of greatest perceived value among members, according to the survey. When asked to rate those resources and others on a "not valuable" to "extremely valuable" scale, 78 percent of respondents selected the AIR Forum as "very to extremely valuable." Percentages for the rest of the top five items were AIR resources for the field (73%), studies of the field (71%), AIR publications (66%), and strategic partnerships developed by AIR (64%).
"The content is 100% relevant to my work."
What can AIR do Better?
AIR continually seeks ways to better meet the needs of its members and the broader data and analytics community. Feedback from the member survey provides information on how AIR can improve its services and ideas for new products, opportunities, and resources. AIR uses the input from members as part of planning discussions for future investments and work. Here are some of the ideas and topic areas recommended by members on this year's survey.
Expose IR to non-IR people who are doing/involved with IR.
Develop more resources focused on community colleges, which has challenges that differ from those in a four-year institutional setting.
Create a way for members to interact and learn from each other in addition to the annual Forum.
Celebrate scholarship and the classic scholars' contributions to institutional research over the years and how they help knit together an evidence-based vision for the future.
Strengthen and make clear the professional identity of IR considering competition from related fields (IE, BI, Strategic Enrollment Management, Student Success, Learning/Predictive Analytics, etc.).
Articulate to higher education leadership the importance of configuring IR to lead analytics and data functions on campus.
Provide more content/guidance about being data stewards and doing our part to create a culture of data literacy at colleges.
Create toolkits to train and prepare IR directors and leaders. Many offices are moving beyond the purely operational (reporting, data pulls, simple ad hocs) to a focus on assessment, research methods, and predictive modeling.
Offer more higher-level sessions for mid-career professionals doing analytics, forecasting/projections, and enrollment management.
"Prior to membership, I saw my job as just that, a J. O. B. Now, I see myself engaged in a professional vocation. That is an invaluable and unexpected benefit of my AIR membership."

AIR Membership Overall

Overall, respondents report a high level of satisfaction when it comes to AIR membership, with 89 percent agreeing that they are moderately to strongly satisfied. The same number (89%) said they would recommend an AIR membership to a colleague, and 88 percent agree that the Association's offerings meet their expectations.

Thank you to all members who participated in the 2017-2018 Membership Survey. Your feedback is valuable to our continued evaluation and improvement of member benefits and resources. In the coming months, we will communicate improvements to the AIR membership experience, many of which will likely be sparked by ideas shared by those who responded to this survey.

View the Executive Summary (PDF)

Questions and/or comments can be directed to air@airweb.org,

.