A Holistic Approach to IR Supports Onboarding, Fosters Understanding of IR
AIR's course A Holistic Approach to Institutional Research is ideal for those new to institutional research as well as experienced professionals. During the six-week online course, participants examine challenges and explore solutions relevant in the rapidly-changing field of IR through readings, discussions, exercises, and videos. At the end, participants gather for a two-day interactive seminar to expand their conversations and professional networks.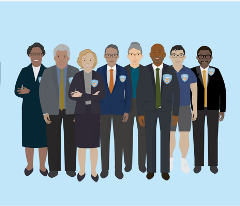 AIR staff caught up with Susan Canon, Director, Institutional Effectiveness & Assessment, St. Olaf College and Dorys Crespin-Mueller, Executive Director, Integrated Planning & Effectiveness, Thompson Rivers University, to learn about their views on the importance and benefits of A Holistic Approach to IR. Combined, these leaders have sent nine staff to this essential course.
How did you hear about AIR's A Holistic Approach to IR course and what prompted you to begin sending your staff?
Susan: I read about the course in eAIR and it seemed to be a good way to introduce staff who were new to IR to the variety of issues we work on.
Dorys: I think I heard about it through the eAIR newsletter and when I looked through the content, it was obvious it would be a good training tool.
How does the course fit into the overall onboarding and training of new staff?
Susan: Unfortunately, we've had a fair amount of turnover in our office, so we've hired three successive staff in only four years. As we are a small office, I didn't have time to train a new employee every year and still get our work done. This was an essential part of their training in their first few months in our office. I held back on starting too many new projects with them while they were taking the course, as I knew they'd need time for their reading and assignments – which seemed well worth the time.
Dorys: Having new staff in our department participate in this course has become part of our onboarding process. The variety of topics covered provide a really good overview of the profession and the kind of work involved. We had the opportunity to send a few team members through the course at the same time, which then led to great conversations in the office about higher education in general as well as our institutional context.
Because of time constraints and pressing demands, the day-to-day work of staff often tends to be specific to the task at hand. This course allows our team to explore specific topics in a more holistic manner. In our experience, it has been a worthwhile investment for our team members who are new to the field.
How does A Holistic Approach to IR prepare a new employee to succeed and excel in their role?
Susan: As noted above, I think this course does a great job of orienting people to the variety of issues we work on in institutional research. It also provided an opportunity for course participants to meet others on campus. They were asked to interview different individuals and to learn about our structure at our institution. The seminar provided the opportunity to meet others in the field, both newcomers like themselves and seasoned veterans who led the seminar. All three of our employees were enthusiastic about what they learned, and developed a much greater understanding about institutional research as a result.
Dorys: In my opinion, it allows people new to the profession to better understand their role and the type of work involved, and it facilitates consideration of the context for our work beyond just the technical aspects.
The course provides a good understanding of different aspects of the profession. The discussions on institutional culture and context prompted by course discussions, for example, have been very valuable. It allows for a more comprehensive training on specific topics than what we could do on our own. Learning from the experiences of instructors and colleagues from other institutions is a major course benefit, and the opportunity to network with peers across institutions provides ongoing value.
For more information and to register, visit the Holistic Approach to IR page on our website.