Higher Education Needs Data Governance
by

Vaughn Hopkins, Delaware State University and Henry Zheng, The Ohio State University
This month, the authors discuss why data governance is needed in higher education.
Data are everywhere, and higher education has more than its fair share. From student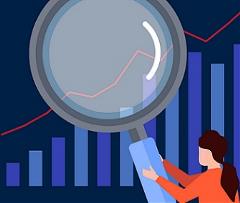 data to business data to research data, there are no shortages of data in higher education. However, making use of that data in ways that move the institution forward and allow the institution to meet its varied goals can be a challenge.1 According to NPR, student enrollment at U.S. colleges and universities is down 11% from 2011.2 For colleges and universities to remain competitive, good data governance standards must be in place for institutions to make data-informed decisions and meet goals more effectively and efficiently.
For some institutions, data governance can come as a forced exercise as opposed to being accomplished voluntarily. This can stem from an institution's disclosure of data to the public (or even internally) that is inaccurate or misreported. Accurate data helps institutions facilitate student success. Better data overall promotes more trust in the data as well as the IR practitioner's analysis and presentation of the data to stakeholders. Data governance in higher education is a risk management tool that facilitates FERPA and regulatory compliance as it aims to protect privacy and sensitive information. Lastly, data is an asset that can create a competitive advantage for institutions, if used correctly.
As IR practitioners, we can learn from Stony Brook University's approach to their adoption of a data strategy to serve as an intentional action and prioritization plan for advancing the university's mission by harnessing and integrating data that will create and disseminate information and intelligence. The focus for implementing such a strategy at Stony Brook was to promote operational effectiveness, excellence, and efficiency; retain and grow revenue; reduce risk; drive innovation; create data assets; increase organizational size and complexity; and develop analytical tools. The key elements that Stony Brook implemented as part of their data strategy included acquisition, governance, quality, access, usage and literacy, extraction and reporting, and analytics.
If you are thinking about starting a data governance process, are in the early stages, tried it and it failed, or even had some success but are still facing obstacles, now is as good a time as any to move forward with your plan. Data governance is something that can benefit every college and university in helping to drive institutional strategy.
References:
1 (January 29, 2018). Improving Data Management and Governance in Higher Education, EDUCAUSE. Retrieved from this URL.
2 Nadworny, Elissa & Larkin, Max. (December 16, 2019). Fewer Students Are Going To College. Here's Why That Matters, NPR. Retrieved from this URL.