AIR Forum Virtual Provides Digital Learning and Networking Experience
For more information about the conference, visit the AIR Forum Virtual webpage. And don't miss the Best of AIR Forum Virtual 2020 thread on AIR Hub.
---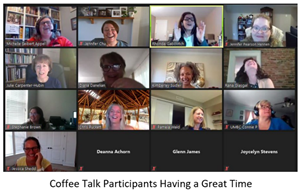 What's better than meeting colleagues in person for outstanding education sessions and networking? Joining them online for a conference that offers exceptional keynotes, Impact Sessions, networking breaks, and more—all from the safety and comfort of your home or office.
The first-ever all-digital AIR Forum Virtual, sponsored by Microsoft, was held June 29 – July 1. The three-day event for champions of data-informed decision making in higher education featured just about everything that in-person conferences have for the last 60 years—but in a virtual environment.
Let's take a look at some of the highlights from this one-of-a-kind conference.
Keynotes
The keynotes inspired us to adapt and thrive in a changing environment and to continue championing student success. Attendees live-tweeted their comments during the sessions.
Our opening keynote, Rebecca Costa, American Sociobiologist and Futurist, talked about moving from adapting to "preadapting"—adapting before the change in the environment occurs.
Watching @rebeccacosta at the @air4data virtual Forum, who says: When it comes to fast adaptation and innovation, "institutional resistance" is the biggest obstacle. #Analytics #Data #BI #IRWaterCooler --@michaelurmeneta
From @rebeccacosta's keynote: Focus on preadaptation to be preemptive. If we know it's coming, let's get ahead of it, whatever "it" is. #AIRForum --@JulieBryantNL
Our closing keynote, Deborah Santiago, Co-Founder and CEO of Excelencia in Education, spoke about redirecting resources and pathways with the greatest need so that we end up with equitable outcomes.
@ds_excelencia asks us to "feed hope—see the asset-base and the opportunity that we have to influence and inform and create opportunities for others" #AIRForum virtual --@FiveMarias
@ds_excelencia, in her keynote at #AIRForum, calls herself a pragmatist and an agitator. This describes what we in IR/IE can be, too. #IRWaterCooler --@laurafingerson
Impact Sessions
AIR Forum Virtual offered two impact sessions on important topics relevant in today's higher education landscape. Attendees had a tough choice––whether to attend Ethics in Action: The Ideal and the Everyday or Supporting Student Success in the New Landscape of Higher Education. Both sessions were thought-provoking, and attendees tweeted their thoughts live and commented in the online conference platform.
Watching @msappel, @cmkeller66, and Jeffrey Johnson at the @air4data virtual Forum talk about "Ethics in Action: The Ideal and the Everyday" I love how committed we are to this! --@michaelurmeneta
From Ethics in Action: This was great As a person new to IR, some of the scenarios presented hadn't even occurred to me as the data itself presenting a dilemma. -- Stephanie Brown
Supporting Student Success #AIRForum Impact Session: Communication & collaboration between IR office & "customers" is important, on the level & amount of data needed. More data is not always more information. --@JulieBryantNL
From Supporting Student Success: This is so true!: "I hear what you're asking, but is this what you want?" -- Luis Enrique-Flores
Concurrent and On-demand Sessions
With more than 80 sessions from which to choose, we can't do them all justice here. These are just a few of the sessions that people were chatting about on social media.
Advocating for #studentsuccess through data-informed decision support is happening now. @air4data #AIRForum Virtual. Who is watching? How do you support / advocate for student success with #data? #IRwatercooler #highered --@BMiller_2013
Favorite fact from @ericatchison's on-demand preso on census day reporting procedures: none of the institutions/agencies surveyed use the exact date of Oct 15 for fall census. If you laughed, you are a true #IPEDSNerd #AIRForum #IRWaterCooler --@laurafingerson
Watching Kristin McKinley and Sarah Dunnagan at the @air4data virtual #AIRForum talk about "SUCCESSion Planning" | A real example of why back-up plans are not enough. We need contingency and long-term strategic plans. --@michaelurmeneta
Missed a session? No problem. Conference registrants have convenient on-demand access to conference sessions and materials until July 29.
Virtual Exhibit Hall/ Sponsors
We love our sponsors—all 20 of them! Attendees were able to take a tour of the virtual exhibit hall and meet with sponsors for one-on-one demos, live chats, visit via virtual Zoom booths, and register for prizes. Our sponsors also contributed expert sessions on the latest tools and resources supporting data use for decision making, providing strategies and solutions for today's challenges
Wrap-up
All in all, the first AIR Forum Virtual was a big success. How do we know? More than 642 members of the AIR community participated in the online conference, and many commented on how much they enjoyed it. Here are just a few of their tweets: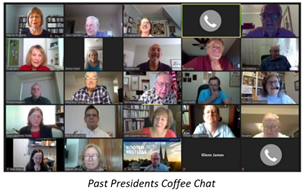 On-demand sessions are a great part of the remote format. #AIRForum Virtual without doubt the best industry conference I've attended since COVID. Congratulations to @air4data for pulling it off! The only thing I'm missing is the snack table... --@danielleyardy

I'm getting to watch a session that happened yesterday great benefit of the virtual nature of @air4data #AIRForum this year. These presenters are right - now certainly is the time to listen to others' stories. --@msappel

Love the ability to watch the sessions on demand that I missed yesterday! My first live session today on Ethics was well done and gave lots to think about, thanks to @msappel, @cmkeller66, and Jeffrey Johnson #AIRForum --@laurafingerson