Harper Reed on Being a Higher Ed Disruptor, Avoiding Ned Stark's Fate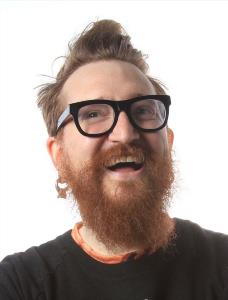 eAIR spoke with Technologist and Futurist Harper Reed to about what he considers to be a pivotal moment for higher education and how institutional researchers are uniquely positioned to serve as disruptors—those who set new industry standards by thinking and acting differently.
This conversation will be continued at the 2021 AIR Forum Virtual. Please join Harper on Thursday, May 27, at 3:35 p.m. ET for the closing keynote session.
Why is this such a pivotal moment for higher education?
Harper Reed: There is so much opportunity right now with both the changing demographics and what is at stake with higher education in general.
Young people have different expectations for college than I did when I first enrolled. There's been this shift. Many people are looking at college as a stopper of opportunity rather than an opportunity expander. There's a perception that college loans become forever loans, for example. So higher education is being faced with what many other industries have been faced with in the past.
How do you see higher education tackling these shifts compared to other industries?
Harper: One of the problems is that universities have historically moved slowly because they've been able to afford the luxury of slowness. That's great. That means you have a stable environment across consistent culture. What we have right now is a different problem—culture is changing. Financial markets are changing. Value sets are changing. It's a perfect storm.
So how can those in IR help their institutions disrupt?
Harper: In my career as a disruptor and working at places that have disrupted, it's about falling back upon metrics. It's important to understand what the goals are, and the goals in higher education have shifted. We've used the same set of goals for 100 years for traditional college experiences. Now, it's much more complicated than, "You should go to college because it's the logical next step."
People aren't very good at thinking about what those new goals are. How do you define a new goal? When the ground changes, what do you do to define that new perspective? Lately, there's been an earthquake of sorts. Students and parents have different values set, for example. People going to college might be slightly older. Some of those we've considered typically-aged college students are avoiding college. Many people applying come from families who've never gone to college before, and so they're not coming equipped with the survival skills needed to navigate higher education. We need data, and the stories data tells, to shift our goals and how we approach them.
What's the risk of being a disruptor?
Harper: I think that any time you are either a disruptor or disrupted, there is a lot of danger. There are silly examples in pop culture. Ned Stark [from Game of Thrones] was a disruptor, and it didn't work out too well for him. With first-mover advantage, often there's just pain and suffering.
But then there's the bigger question—and the risk of not thinking differently: How do you make sure you're not just fading into oblivion? How do you attract and support students that maintain an alumni base that maintain a trustee base, and so forth?
[Those with data] don't necessarily have all the answers. It's more that we are faced with some intractable situations, sea changes, whatever you want to call them, that create this framework that allows us to take action in a way that is quantifiable and very metric-driven.
What does that look like?
Harper: Units of work can be smaller. Right now, maybe we're not getting the number of students or quality of students we normally get. Or international enrollment is low. Let's start breaking it down to smaller metrics. Rather than a huge big problem, let's tackle a bunch of smaller problems. We're smart and we can attack those very specifically.
On a lighter note, what new hobby or activity have you discovered (or rediscovered) in the past year of pandemic lockdown?
Harper: I started a company—by accident. Galactic. It makes video chat much more exciting by letting users share and use video, visual, and audio effects, filters, and AR. Here—I'll show you:
---
Harper Reed is a technologist that predicts the future for a living. He spends most of his life building big things, hacking things, and talking about doing both of those things.
As CTO of the Obama 2012 campaign, Harper was the first to bring the tech mentality to a political level. He believes the talent of a great bunch of humans can transform an organization like nothing else and uses that belief to strengthen, deploy, and inspire every team he works with. Harper also believes his incredible luck has led him to achieve wonderful things like pioneering crowdsourcing at Threadless.com, founding Modest Inc, and guiding the software team at PayPal. You can find Harper hacking on personal projects and enjoying life in Chicago with his partner, Hiromi and their beautiful and bizarre poodle, Lulu.
For more information, visit www.harperreed.com.