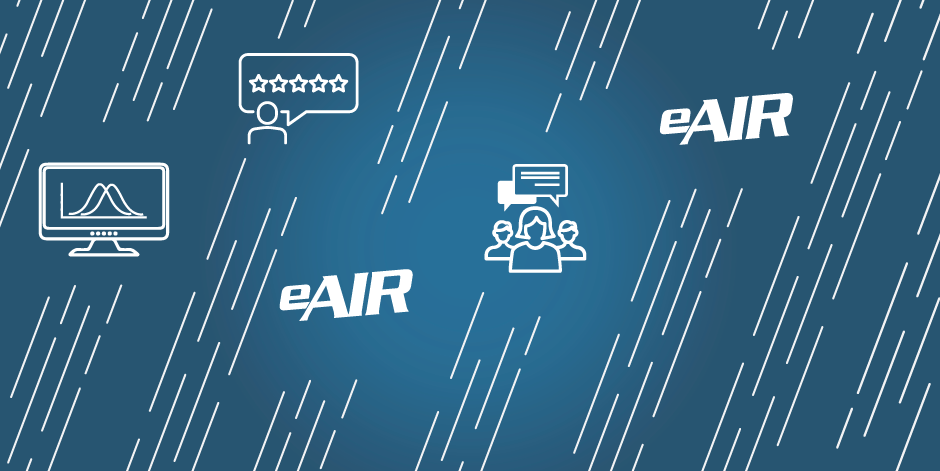 eAIR is the monthly newsletter of the Association for Institutional Research (AIR). From its start in October 1987 to today, eAIR remains one of the most important tools for providing in higher education. eAIR is delivered on the third Thursday of each month. The scope and mission of this valuable resource includes web-based resources which are available at any time.
---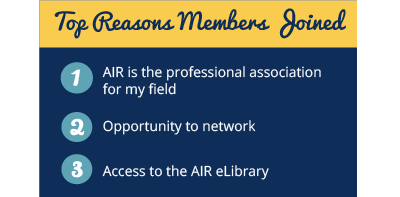 ---
by Steve Graunke, Director of Institutional Research and Assessment, IUPUI

Ask eAIR invites questions from AIR members about the work of institutional research, careers in the field, and other broad topics that resonate with a large cross-section of readers. If you are interested in writing an ...

Read More

about: Using Qualitative Sampling to Your Advantage

by Christine Ross - AIR Board Member at Large

A long time ago, in a past life far, far away… two questions my administrative team would continuously ask students to answer were: "What are you doing in class, and why is it important?" These qu...

Read More

about: What Are We Doing and Why is it Important?
---
Special Feature / Interview

12.20.18

Nearly two decades ago, as a faculty member coordinating a major, I was referred to the factbook when looking for metrics for a five-year program review. Trying to understand the graduation rate and retention rate that I...

Read More

about: The Institutional Factbook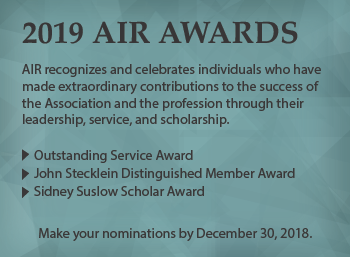 ---
Kerrie-Lee Clarke has retired as Vice Provost from Lakehead University. Christy England started a new position as Vice Chancellor for Academic and Student Affairs at State University System of Florida - Board o...

Read More

about: Who's On The Move?

AIR welcomes brief announcements of interest to the IR and assessment communities, such as the release of a report, funding opportunities or a request for applications. Send your announcement to eAIR@airweb.org&nbsp...

Read More

about: Keeping the AIR Community Informed
---
by Dana Prymak, Research Associate, Thompson Rivers University

Analysts use visualizations to deliver complicated information in an easy to understand way. Dual axis function in Tableau helps users to be efficient with a message of visualization. Another name for a chart with a dual...

Read More

about: Tip for Tableau Users

by Josh Rosales, Research Analyst, El Camino College

Scenario: You are developing an Excel dashboard based off a Pivot table or tables and you have multiple slicers to allow different combinations of data disaggregation, as in the image below. Everyone oohs and ahs un...

Read More

about: Creating a Clear Slicer Button in Excel

Visual Displays of Data

12.20.18

by Steve Miller, Director/Sr. Analyst, University of Cincinnati Blue Ash College

Sharing results from our Graduating Student Survey typically meant sending or posting Excel or PDF files. Now, we're able to post interactive results in one location, allowing users to view results by year. Fro...

Read More

about: Graduating Student Survey Results Dashboard
---