eAIR is the monthly newsletter of the Association for Institutional Research (AIR). From its start in October 1987 to today, eAIR remains one of the most important tools for providing news to the higher education community. This valuable resource includes web-based resources which are available at any time. eAIR is typically delivered on the third Thursday of each month.
Create a free account or update your communication preferences to receive the eAIR newsletter.
---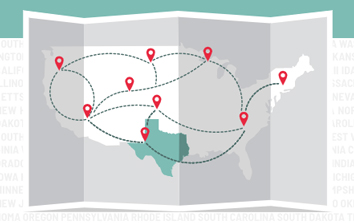 Article

Featured

12.17.19
by David Troutman, Associate Vice Chancellor for Institutional Research & Advanced Analytics, University of Texas System, and AIR Board Member at Large
It is no longer business as usual for institutional researchers when creating metrics that describe student access, progress, and success. Policymakers, media, and the public are asking complex questions pertaining to s...
Read More

about: UT System and Census Collaborate for Better Data on Student Outcomes
by AIR Board members: Martin Fortner, President; Heather Kelly, Vice President; and Michelle Appel, Immediate Past President

We are grateful for you, our AIR members and Affiliated Organizations, for being engaged professionals. Whether it be presenting at conferences, contributing reports and publications, volunteering and participating in A...

Read More

about: With Gratitude
Article

Ask eAIR

12.17.19

by Erin DeSantis, Associate Director for Student Success Analytics, California State University, Long Beach

Dear Erin: With the changing role of IR, how do we as IR professionals move from data providers to data storytellers? I think the thing to keep in mind is that the role of IR is not necessarily changing, but rather it&rs...

Read More

about: From Data Providers to Data Storytellers
Post a new job or view all open positions on AIR's Job Board.
Kelli Armstrong is now President of Salve Regina University. Jayne Perkins Brown, Julie Carpenter-Hubin, and Robert Zhang are now AIR emeritus members. Daisy Grewal is now a Senior Research Scientist...

Read More

about: Colleague News
This month, check out the latest articles from The Journal of Innovative Higher Education and view a great tip for authors from the journal editor. The articles listed below have recently been post...

Read More

about: Journal News
Visual Displays of Data

12.17.19

by Heba Atteya, Director of Business Intelligence & Data Analytics. American University in Cairo

Founded in 1919, AUC is a leading English-language, American-accredited institution of higher education and center of intellectual, social, and cultural life of the Arab world. Its community of students, parents, faculty...

Read More

about: Grades Analysis Dashboard: Grades Inflation - Hype or Reality?