National Survey Data Bite

06.18.21
% of IR Offices Participating in Professional Development Related to Communicating Information
IR spends a significant amount of time collecting, managing, and analyzing data. But one of the most important tasks is our ability to accurately communicate that information in formats that can be consumed by our stakeholders. To help build staff reporting and data visualization skills, their IR Office should provide professional development opportunities and staff should take advantage of those opportunities, but how many do? In the 2018 AIR National Survey of IR Offices, we asked the office leader to indicate which staff members participated in training. We found that, on average, 28% of IR Office leaders participated in training related to communicating information compared to 24% of Assistant/Associate Directors, and 22% of analysts.
When we disaggregated by institutional sector, we find that slightly more public 2-year IR offices participated in this type of training compared to public 4-year institutions and private, not-for-profit, 4-year institutions.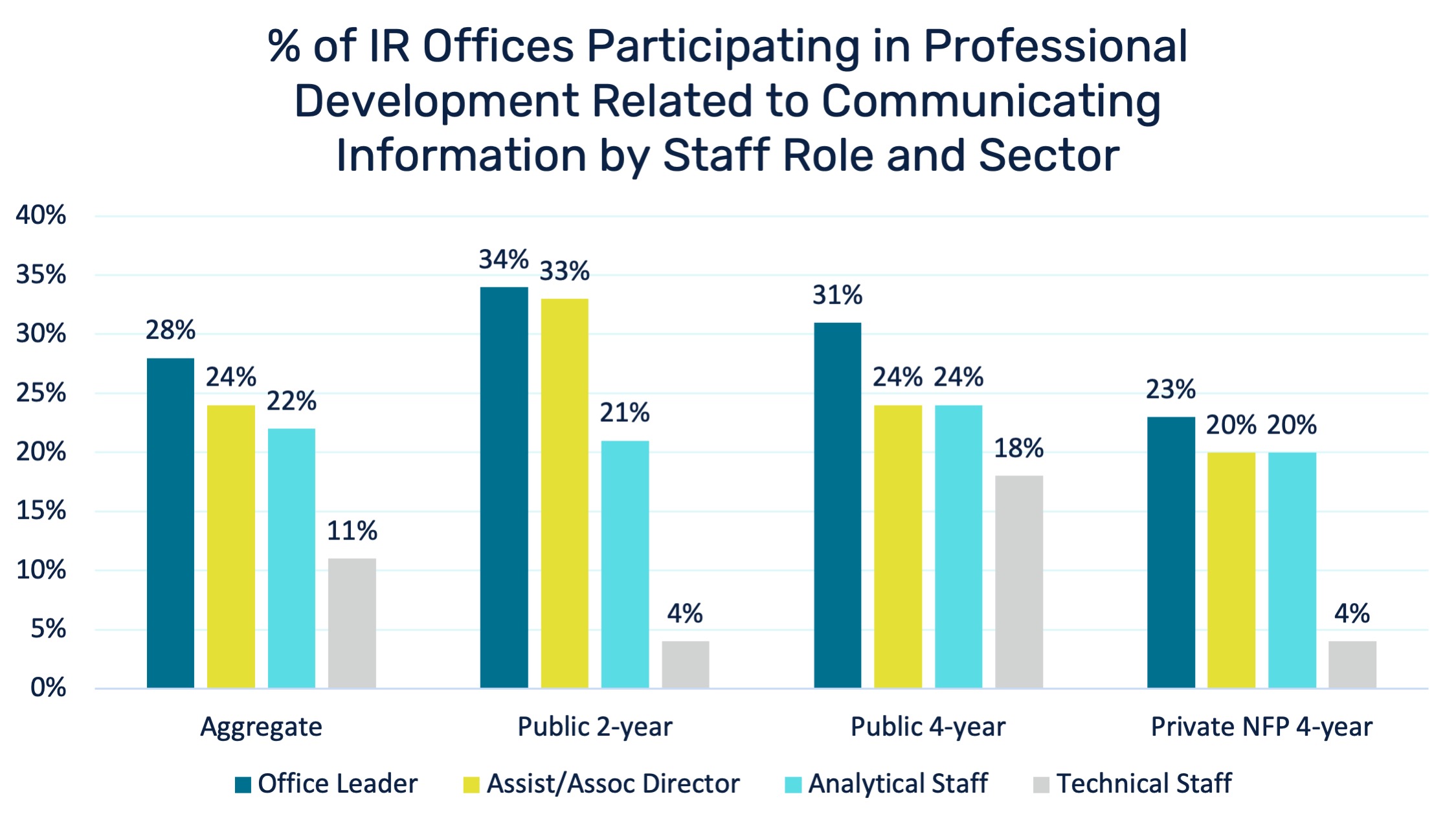 ---
What is the National Survey of IR Offices?
The National Survey is a nationally representative, longitudinal study of the function of institutional research (IR) in higher education.
Learn More About the Survey View More Data Bites
---
Long Description
Tabular representation of chart graphic: % of IR Offices Participating in Professional Development Related to Communicating Information by Staff Role and Sector



| | | | | |
| --- | --- | --- | --- | --- |
| | Office Leader | Assist/Assoc Director | Analytical Staff | Technical Staff |
| Aggregate | 28% | 24% | 22% | 11% |
| Public 2-year | 34% | 33% | 21% | 4% |
| Public 4-year | 31% | 24% | 24% | 18% |
| Private not-for-profit 4-year | 23% | 20% | 20% | 4% |
Back to National Survey Data Bite