AIR believes that data literacy is for everyone. It is an ongoing investment of time and energy to develop and maintain the knowledge, skills, mindsets, and habits required to use data to make better and ethical decisions.

About
AIR's Data Literacy Program is founded on the following core ideas:

Knowledge: What we know.
A data literate person understands that data do not tell us what to do. Rather, data are used to measure and explore outcomes to learn what works, what does not work, and why.

Skills: What we can do.
A data literate person can use data to measure and explore outcomes to develop and communicate actionable insights to inform decisions.

Mindsets: What we think.
A data literate person thinks about, approaches, and uses data in a way to support curiosity, confidence, mindfulness, collaboration, commitment, and integrity, with acknowledgement that biases exist.

Habits: What we do.
A data literate person supports the utilization, sharing, and advocacy of data; observation of ethical standards; identification of one's own biases; attention to the human element of data and information; and development of data literacy among colleagues and stakeholders.
Data Literacy Institute – Accepting Institutional Applications for 2024
The Data Literacy Institute is a 12-week experience that brings together a cohort of up to 30 individuals from across your institution, including faculty, advisors, administrators, and other staff. The Institute's curriculum establishes the knowledge, skills, mindsets, and habits of a data literate professional. The Institute follows AIR's data-informed decision-making process through six sections:
Start with a question
Connect questions to data
Reveal data's information
Communicate information
Take prudent action
Close the loop… and continue it

"Excellent tutorial videos and live facilitated discussions. I recommend the Data Literacy Institute (DLI) to campus teams as a great way to get to know institutional data for the purpose of informing decisions about policies and practices for student success.
— Executive Director for Student Retention, Rutgers University - Newark
Course Experience
The Institute includes the following weekly activities and approximate time commitments: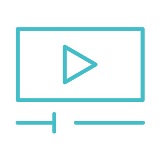 Tutorials
one hour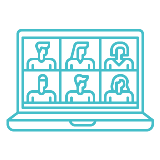 Virtual Seminars
two hours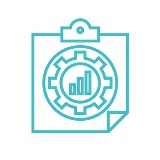 Group Capstone
two hours*
"Brilliant material and an impactful course on data literacy."
— Assistant Professor, Chemistry, Oakland University

*The cohort is separated into 3 cross-functional teams that work together weekly to apply Institute learning to action through a capstone project that explores an institutional challenge. Each team will develop a question and follow the 6 sections of the Institute content.
Pricing
The institutional investment is $20,000 per cohort which is only $667 per person when you utilize the 30 spots.
Testimonials
"It was amazing how much this experience had to offer for faculty and staff with a wide range of previous experiences. I felt I was expert on some of the topics covered, but I felt I gained a new perspective and learned something useful or new even in the sections I had the most background in."
— Associate Dean College of Education and Health Service Professions and Associate Professor of Psychology, University of Minnesota Duluth.
"This session was really informative and provided a lot of different tools to use that I was unaware of. It also showed me that I know more than I think but now I can put the technical name to it."
— Director of One Stop for Student Services, Kent State University
Interested in expanding data literacy at your institution or organization?
Fill out an Interest Inquiry to learn more.