The AIR Professional File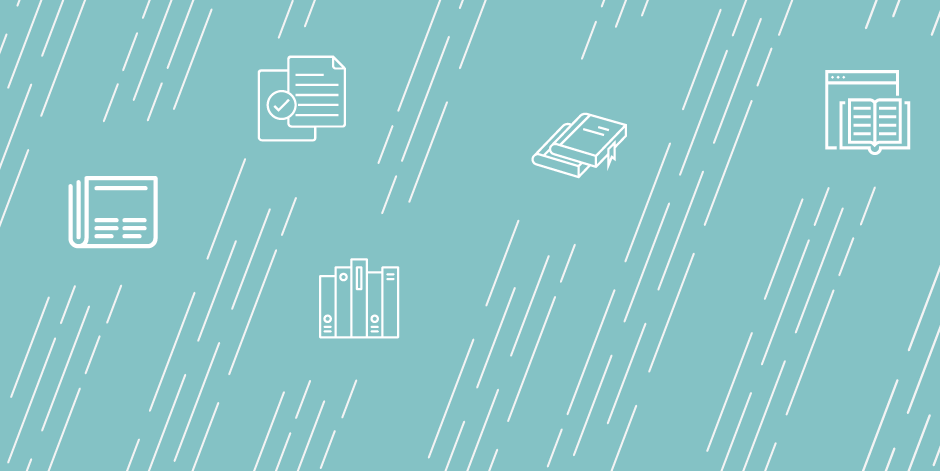 The AIR Professional File
Articles published in The AIR Professional File volumes are journal-length publications grounded in relevant literature that synthesize current issues, present new processes or models, or share practical applications related to institutional research. Recent issues are available for all users (members and non-members). Older issues of The AIR Professional File and IR Applications are available for member access in the archive (coming soon). Interested in submitting an article to The AIR Professional File? See Instructions for Authors for more information.
Recent Issues
---
Spring 2019 Volume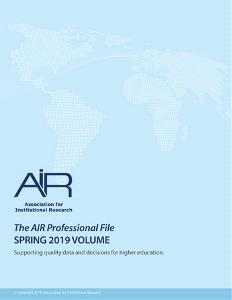 ---
Summer 2017 Volume
Article 143 - Constructing a Peer Institution: A New Peer Methodology
Authors: Steve Chatman
Article 142 - A Case Study to Examine Three Peer Grouping Mehodologies
Authors: Mary Lou D'Allegro
Article 141 - Needle in a Haystack: Finding Learning Improvement in Assessment Reports
Authors: Keston H. Fulcher, Kristen L. Smith, Elizabeth R. H. Sanchez, Courtney B. Sanders
Article 140 - Institutional Data Quality and the Data Integrity Team
Authors: Katherine A. McGuire
---
Fall 2016 Volume
Article 139 - Mining Text Data: Making Sense of What Students Tell Us
Authors: John Zilvinskis and Greg V. Michalski
Article 138 - An Alternative Approach: Using Panels to Survey College Students
Authors: Shimon A. Sarraf, Sarah Hurtado, Mark Houlemarde, and Xiaolin Wang
---
Spring 2015 Volume
Article 137 - Two Heads are Better than One
Authors: Julie Carpenter-Hubin, Jason Sullivan, and Joan M. Herbers
Article 136 - Applications of Social Network Analysis in Institutional Research
Authors: Ning Wang
---
Spring 2014 Volume
Article 135 - Institutional Research and Athletics Reporting
Authors: Kyle V. Sweitzer, Jennifer Hoffman, and David Horton Jr.
---
Spring 2013 Volume
Article 131 - Programs for Engagement and Enhancement
Authors: Xinxing Anna Zan, Sang Won Yoon, Mohammad Khasawneh, and Krishnaswami Srihari
Article 130 - Alternative Estimates of the Reliability of College Grade Point Averages
Authors: Joe L. Saupe and Mardy T. Eimers
Article 129 - A Comparison Study of Return Ration-Based Academic Enrollment Forecasting Models
Authors: Xinxing Anna Zan, Sang Won Yoon, Mohammad Khasawneh, and Krishnaswami Srihari
---
Fall 2013 Volume

Article 134 - Unrealized Educational Expectations: A Growing or Diminishing Gender Gap? It Depends on Your Definition
Authors: A. Seifert, Ryan S. Wells, Daniel B. Saunders, and Bryan Gopaul
Article 133 - Tracking the Discount: Tuition Discount Rates, Net Tuition Revenue, and Efforts to Inform Institutional Practices
Authors: Natalie Pullaro Davis and Kenneth E. Redd
Article 132 - A Case Study to Examine Peer Grouping and Aspirant Selection
Authors: Mary Lou D'Allegro and Kai Zhou
---
Archive
The AIR Professional File/IR Applications archive is unavailable due to the transition to an updated website and user portal. This feature should be available soon. If you need a specific publication in the meantime, please contact publications@airweb.org.
Instructions for Authors
Authors are encouraged to submit journal-length publications (approximately 5,000-10,000 words, including figures, tables, and references) for consideration. All submissions undergo a blind peer-review process led by the Volunteer Coordinating Editor, Sharron Ronco. Authors may find the rubric used in the peer review process to be a helpful guide. Submissions may be emailed to publications@airweb.org in the form of Word documents. Please include contact information for all authors.