National Survey of IR Offices
The National Survey of Institutional Research Offices is a nationally representative, longitudinal study of the function of institutional research (IR) in higher education.
This project, which began in 2015, seeks to better understand and improve IR office operations, which support the efficiency and effectiveness of data-informed decision making in higher education.
The survey collects information about IR office structure, leadership, resources, and effectiveness. The data improves our understanding of the ever-changing role of IR in higher education and how individual IR offices can best meet the needs of their institutions.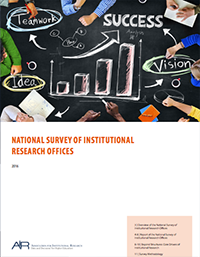 2018 National Survey Results
The 2018 National Survey is now closed.
Be sure to check back! We will post the 2018 survey findings here soon.
---
2015 National Survey Results
National Survey of IR Offices